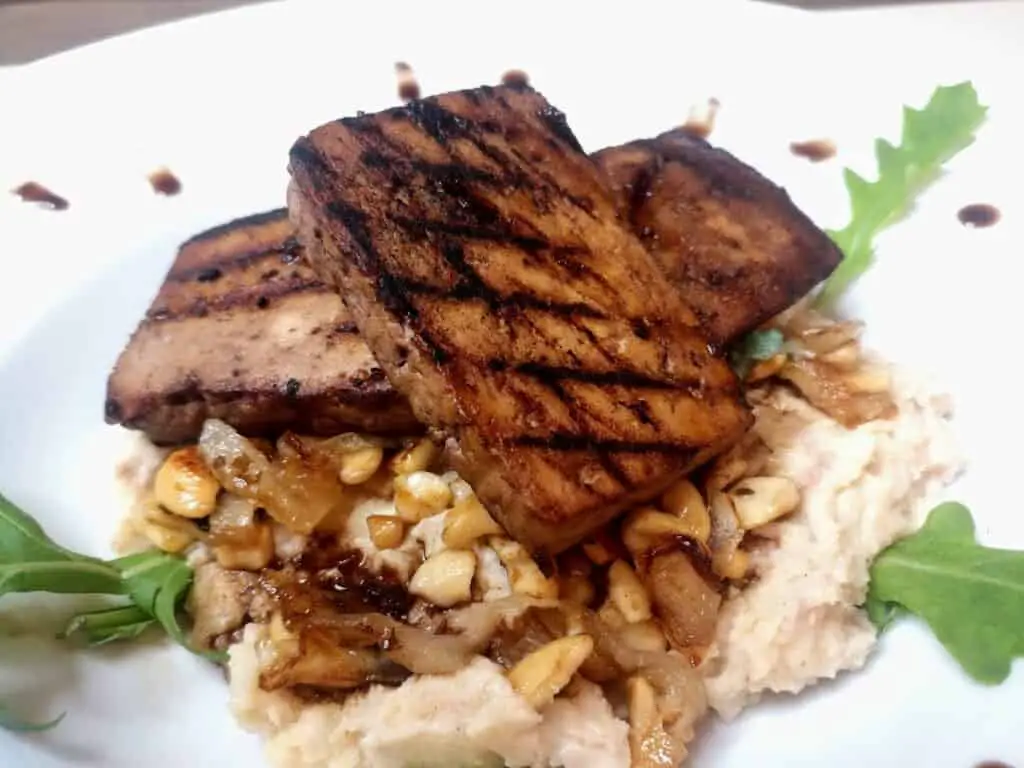 The roots of this recipe are rooted in "From the Kitchen with Love," Ruth Sirkis' immortal book. It appears there as "Far Eastern-style chicken"; I often served it in my pre-vegan era.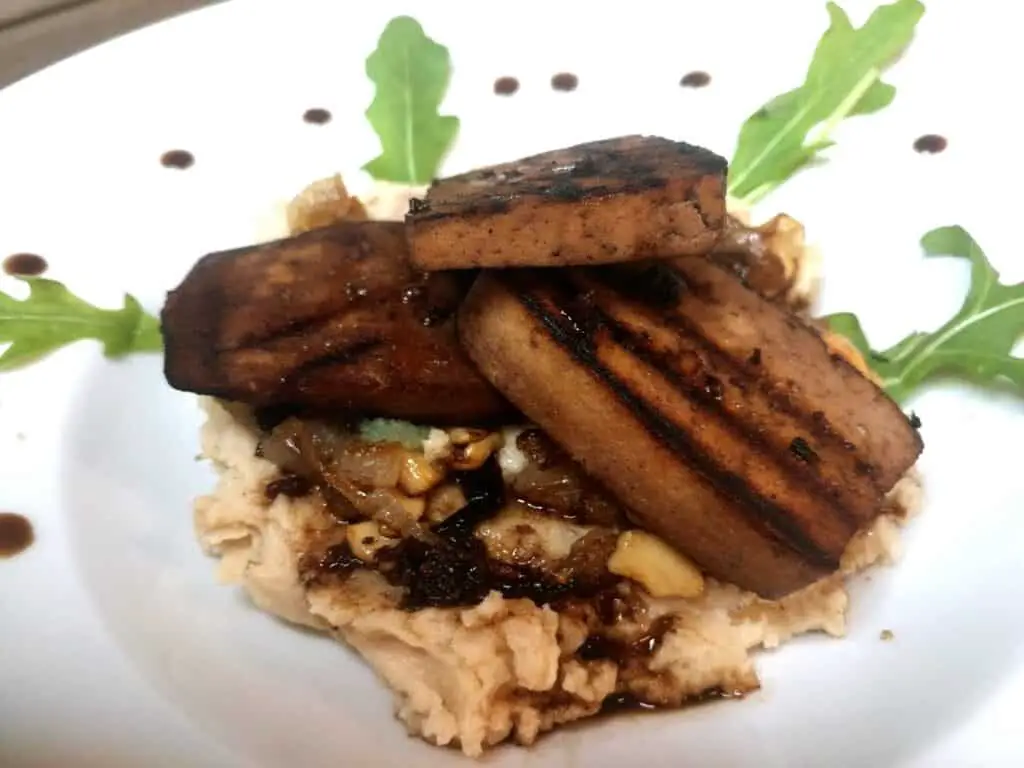 After Gad became vegan (long before I did), he made a vegan version of the dish.
First, he soaked tofu slices in a marinade of red wine, soy sauce, date syrup, and garlic. Then, after a day (or even more), seared the tofu on the pan.
Then, instead of serving it with the traditional side dish of white rice – he patiently caramelized onions and cashews, added a clove of crushed garlic, generously sprinkled it on mashed potatoes, and placed the tofu slices on top.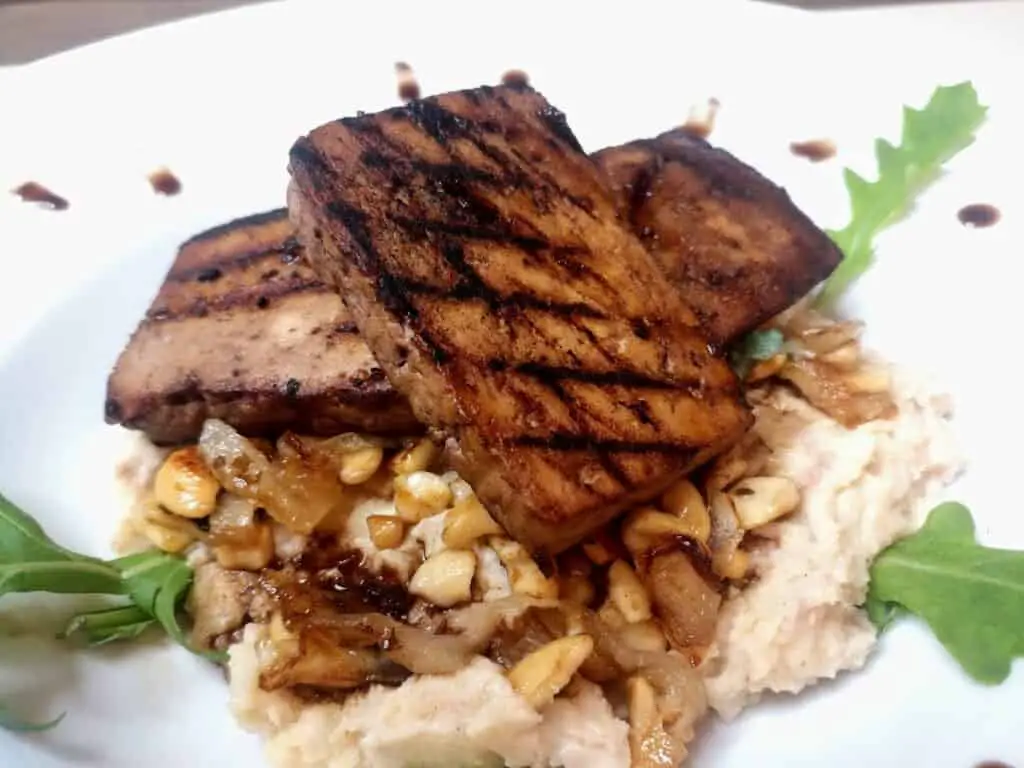 I recently remembered the dish, and it was clear that it must be included in the blog!
I made slight changes to Gad's version: I reduced the marinade on high heat and drizzled it over the mashed potatoes and tofu. The result was overwhelming! No one remains indifferent to this excellent dish!
You can also serve it with Mashed Potatoes And Cauliflower or white rice.
Enjoy, and let me know how it turned out ❣️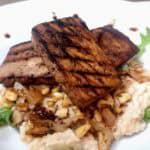 Seared Tofu In Red Wine
Slices of tofu in a marinade of red wine, soy sauce, maple syrup, and lots of crushed garlic, seared on a griddle pan and served along with caramelized onions and cashews on mashed potatoes. Perfection❣️
Ingredients
Tofu
500-600

gram

Tofu, cut into slices about 1 cm thick.

⅓

cup

dry red wine

⅓

cup

maple syrup

or date syrup

⅓

cup

soy sauce

2

Tablespoon

toasted sesame oil

6-8

cloves

crushed garlic

by taste
caramelized Onions and Cashews
1

large onion, chopped or sliced

½

Tablespoon

sugar

Optional, but speeds up the caramelization process 🙂

2-3

Tablespoon

oil

to fry the onion

½

cup

cashews, whole or chopped

see note

1

clove

crushed garlic

optional
For Serving
Instructions
Tofu
Put wine, soy sauce, maple syrup, sesame oil, and crushed garlic in a container with an airtight lid. Add the tofu slices, close the box and refrigerate for several hours, preferably overnight. Occasionally turn the container over to make sure all the tofu slices will absorb the marinade.

Prepare the sauce: Take the tofu slices out of the box, place them on a plate, and set them aside. Transfer the marinade sauce to a small saucepan or cauldron; Cook-reduce over medium-high heat until slightly thickened. Remove from the heat and allow to cool to room temperature.
caramelized Onions and Cashews
Heat oil in a pan, add the onion and sugar, and fry while stirring until the onion begins to brown. Add the cashews and continue frying until the onions and cashews are nicely browned. Remove from the heat and add a clove of crushed garlic; Stir well.
For Serving
Heat a griddle pan brushed with oil; Sear the tofu slices on both sides until you get burn marks.

Put a portion of mashed potatoes (or white rice) in a serving dish. Sprinkle generously with the caramelized onions and cashews. Place tofu slices on top, drizzle wine sauce over the tofu and mashed potatoes; Serve warm.
Notes
If you add a clove of crushed garlic to the caramelized onion (after removing from heat), you get a surprise: the clove of garlic changes its color to greenish-turquoise!