How to make the best kebab in the world!
In a previous post, I told you how I tried, without success, to reproduce the recipe of chicken-olive-lemon, the one I smelled ages ago at a friend's house.
The mystery was solved (partially) thirty years later when I was invited to lunch with a friend of Moroccan origins at her sister's.
My friend's sister served us meatballs. When I asked her, between bites, about this insane fantastic taste, they both answered unanimously: "Ras El Hannut"!
The sisters explained it was a Moroccan spice blend which means "head of the store": a selection of fine spices.
Ahh! The good old 'Chicken-Olive-Lemon' popped up immediately!
It Turned out I had to grow(!) For another twelve years to learn that not every "Ras El Hannut" deserves this aristocratic title.
It's not that simple as mixing cinnamon, black pepper, and clove! Even blends with nutmeg, ginger, and cardamom didn't come close to the smell which enchanted me years ago.
After starting the blog, I browsed the web in search of the secret ingredient – the one that gives that unique umami.
I discovered a spice I never heard about: Mace!
Another search brought up several recipes for Ras El-Hannut, which indeed include the miraculous Mace. Some roast and grind the spices at home, and some add other ingredients such as dried rose petals.
I found an excellent recipe that is easy to make: it uses ground spices, omits cumin, and increases mace.
Being eclectic, I made a fusion plus a few adjustments: I reduced the cumin and added more rose petals and Mace.
I STARTED MAKING THE KEBAB when I finally got an authentic Ras-El-Hannut blend with a delicious smell that implied good news.
I took a bite: it was the most delicious kebab I have ever eaten! I realized I found the lost smell of the "Chicken-Olive-Lemon," together with the taste of the fantastic patties I had at my friend's sister.
"I have a gastronomic breakthrough," I solemnly announced to Gad, my son – he agreed with a full mouth!
Do not settle for less than the best kebab in the world!
After tasting this kebab with an authentic Ras-El-Hannut blend, you will never go back, I promise!
Do yourself a favor and purchase ground mace, as well as rose petals; Keep them in the freezer; They will last for a very long time.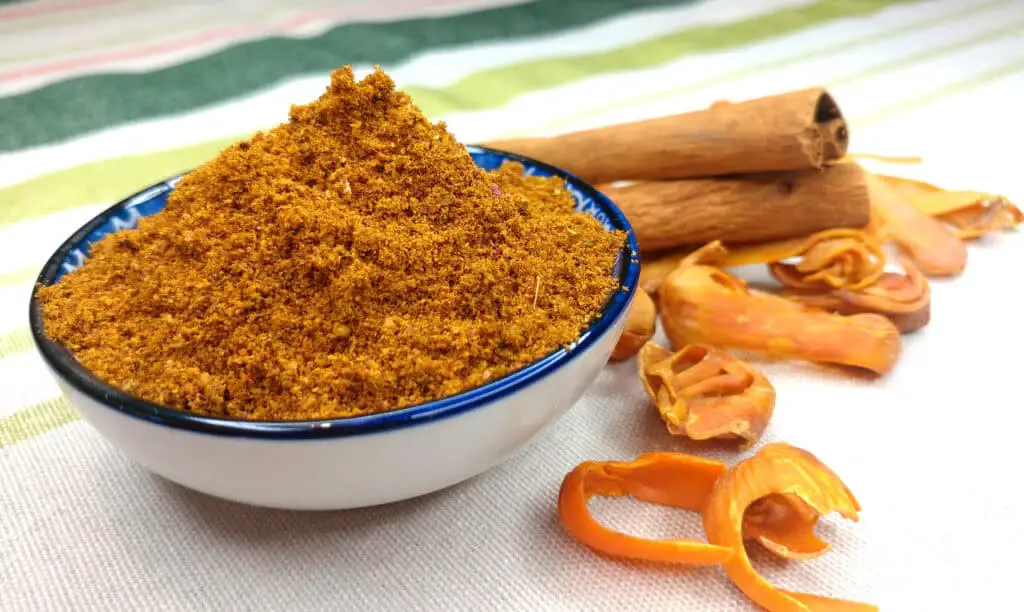 For the Ras-El-Hannut blend recipe, click here or the link in the recipe below.
Enjoy, and let me know how it turned out.❤️
Vegan Kebab With Pistachio, Served With Broccoli And Potato Puree
Meet the best kebab in the world:
Plant-based minced meat with plenty of parsley, chopped onion, a generous handful of pistachios, olive oil, and a 'secret' ingredient!
After you try these kebabs – you will never go back!
Serve with 'Purokoli' – broccoli and potatoes puree. Yum!
Ingredients
Kebab (yields about 20 units)
500

grams

minced vegan meat, defrost

such as beyond meat (which contains some binder)

2-3

Tbsp

parsley or cilantro, chopped

or both

4-5

Tbsp

pistachio, chopped

1

medium white onion, chopped

1

Tbsp

almond butter or raw tahini

⅓

cup

olive oil

1

Tbsp

paprika

½1

tsp

Ras El Hannut

click on the link for the recipe

½

tsp

garlic powder

salt, black pepper to taste

1-2

Tbsp

olive oil to brush the kebabs
For Serving
chopped pistachios

pistachio oil for seasoning

optional

tahini dressing
Instructions
Puroccoli
Place the broccoli florets in a medium saucepan. Pour boiling water over them and cover. Cook over high heat until the water reaches the boiling point; Remove immediately from the heat and set aside, still covered. This way, we will keep the fresh-green color of the broccoli.

Place the potatoes in another saucepan. Put the bay leaf and allspice balls in a small cotton bag, close the bag and add it to the pot; add one teaspoon of salt, cover the potatoes with water, cover the pot and bring to a boil. Lower to medium-low heat and cook until the potatoes are tender. While the potatoes are cooking, make the kebab.

Once the potatoes have softened, remove the bag with the spices, strain the potatoes and save about a quarter cup of the cooking water. Next, put the boiled potatoes in a food processor, drain the broccoli and add to the food processor as well; add 1-2 tablespoons of the potato water, and process into a puree. If the puree is too thick/dense, add water, gradually, until you get the desired consistency.

Transfer to a bowl, add olive oil, nutritional yeast, and spices, and mix well. Taste and adjust seasoning if necessary.
Kebab
Preheat oven to 200 degrees Celsius.

Line a pan with baking paper.

Place the vegan minced meat into a bowl. Add pistachios, parsley, chopped onion, almond butter, olive oil, and spices; mix well until combined.

Grease your hands with olive oil, and make patties in the shape of a kebab. Re-grease your hands after 2-3 kebabs.

Place the kebabs on the pan and brush them with olive oil.

Place in the hot oven for a short roast for 10-12 minutes (no more!) Until set.
For Serving
Place the 'Puroccoli' on a plate, sprinkle some chopped pistachios and drizzle pistachio oil on top.

Next, insert skewers into the kebabs and place them over the puree; drizzle tahini dressing on the kebabs, take a bite – and rejoice 🙂