A delightful fusion between Korean and Austro-Hungarian cuisine
I'm still on the Tteokbokki trip! Well, it created a makeover in the pantry!
This recipe is ideal for winter – but also goes great in the air-conditioned bunker 🙂
This Austro-Hungarian dish – gets a wink from Asian cuisine – with Tteokbokki – the Korean rice noodles.
White cabbage, sauerkraut, and sausages are famous in Austro-Hungarian cuisine and Eastern Europe.
We already have sauerkraut and sausage in a bun on the blog and cabbage strudel. Now it's time for the cabbage and sausage stew.
The is the kind of dish you can prepare even when you return from work (not from a crazy day at work – yes?)
Enjoy, and let me know how it turned out 😋❣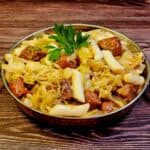 Tteokbokki Sauerkraut and Sausage GF
When you pair Tteokbokki – Korean rice cakes with the Austro-Hungarian cabbage and sausage stew, you get fusion at its best: caramelize the onions with a pinch of sugar, add white cabbage, season with cumin and ground black pepper, add homemade sauerkraut, fried vegan sausage slices and Tteokbokki noodles cooked according to the instructions. Quickly stir-fry everything, sprinkle with chopped parsley, and serve.🥬🌭🍜
Ingredients
Three to four servings
400

gram

Tteokbokki

4-6

gluten free sausages

2-3

Tablespoon

olive oil

1

large onion, chopped

½

Tablespoon

sugar

400

gram

White cabbage cut into strips

1

tsp

salt

by taste

1-2

tsp

caraway seeds*

½-1

tsp

ground black pepper

Black pepper should be dominant in the dish, but of course according to taste

½1

cups

sauerkraut

optional, but recommended
For Serving
parsley, chopped

optional
Instructions
Cook the Tteokbokki noodles according to the manufacturer's instructions, drain over a deep bowl, and keep aside* see note.

Cut the sausages into slices about one centimeter thick (0.4 Inch).

Heat oil in a pan or wok, add the sausages, and fry them until seared on all sides. Remove from the pan, and set aside. Don't panic about the oil turning red -it will disappear later.

Add onion and sugar to the pan and fry on a medium heat until the onion begins to brown,

Add white cabbage, salt, pepper, and cumin, and continue to fry while stirring occasionally. Lower the heat and cook uncovered for 10-15 minutes until the cabbage shrinks and softens.

Add the sauerkraut, mix well, taste and adjust seasoning if necessary.

Add the fried Tteokbokki, return the sausages to the pan, and fry for a minute or two.
For Serving
Divide into portions, sprinkle with chopped parsley and serve.
Notes
The caraway seeds blend wonderfully with the cabbage. In addition to taste, they absorb the gases of the cabbage 😉
Tip: After Tteokbokki is cooked, strain it over a bowl and keep it aside: In case the Tteokbokki have stuck to each other – pour the cooking water in the bowl over them (while the Tteokbokki is still in the colander) and then add them to the sauce.
You can get the Tteokbokki in stores specializing in Asian products.