Hurry before it runs out! Apricot season is too short; I had to maneuver between working on this recipe and sticking to the schedule to post it.
So just before they disappear from the market, when the apricot is ripe and sweet, it's time to make a tart. To be precise – Apricot Pistachio tart! Because, between us, what could possibly go wrong with such a magical pairing?
I got the inspiration for this delicious apricot and pistachio tart from Bruno Albouze, a virtuoso pastry chef.
Bruno made a tart with a classic French crust, pistachio almond cream for the filling, and topped with ripe apricot. He served this decadent dish with pistachio ice cream. As Bruno puts it – It's a real deal 🙂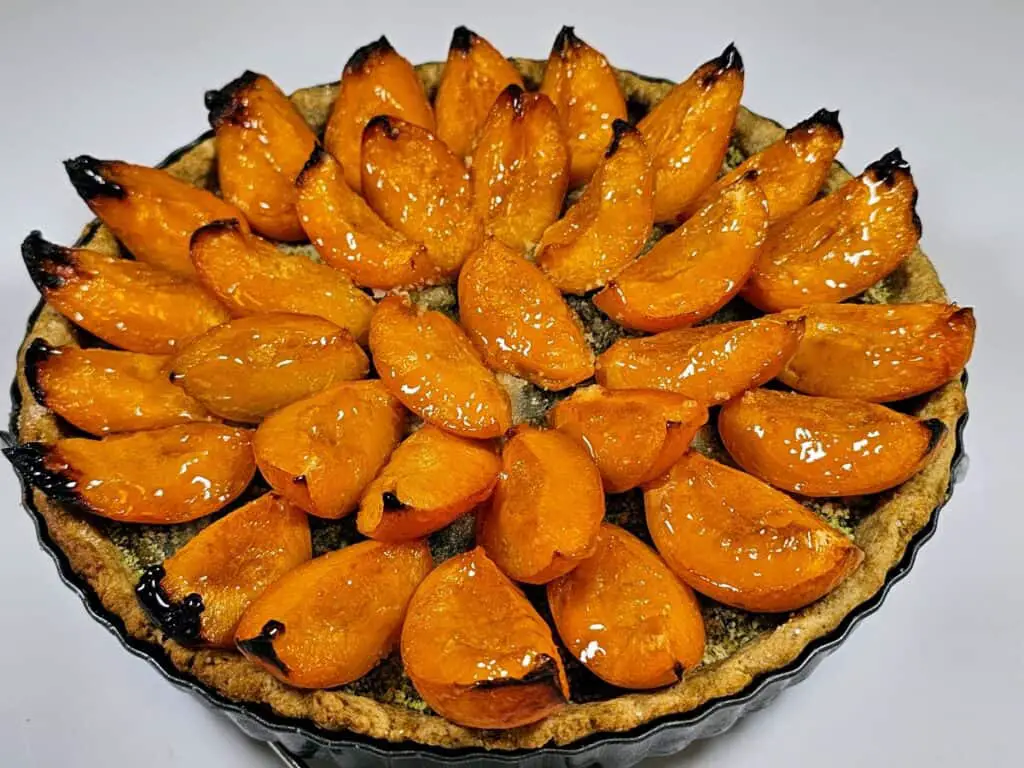 When I veganize a recipe, I try to add a personal fingerprint, such as conducting an intimate dialogue between the crust and the filling; so this time I added pistachios to the crust!
I chose ripe, soft, sweet apricots (this is critical – otherwise, the tart will turn out very sour), cut them into quarters, and arranged them on the cream. I sprinkled sugar and baked the tart until the apricots were soft.
Next, I melted some apricot jam and brushed it over the apricots.
I sprinkled roasted pistachios, placed a scoop of pistachio ice cream on top, and served. The result was a delightful summer celebration!
The sweetness-sourness of the apricots, with the pistachios, creates a delicacy that is hard to resist.
Enjoy, and let me know how it turned out 🍑🍑😋😋❣❣
Vegan Apricot Pistachio Tart
Hurry before they disappear: a delightful summer celebration of crispy pistachio-crust, rich pistachio-almond cream, and a crown of sweet apricots! Serve with pistachio ice cream, and you're hopelessly addicted🍑🍑
Ingredients
Apricot
3

Tablespoon

almond flour

400-450

gram

Ripe and sweet apricots, pitted and cut into quarters

2

Tablespoon

granulated sugar (don't use powdered sugar!)
Glazing After Baking
1

Tablespoon

Smooth apricot jam

one tablespoon – no more!
Instructions
Crust
Preheat the oven to 180 degrees Celsius – 350 degrees Fahrenheit in fan mode

In a food processor, chop the pistachios into slightly coarse crumbs, add the rest of the dough ingredients: spelled flour, almond flour, pistachio puree, olive oil, powdered sugar, vanilla, salt, and water, and process until it forms into a dough.

Line a 22 cm greased tart pan (8.66 – Inch), base, and sides, and prick with a fork or wooden skewer.
Pistachio Cream
Put In a food processor: pistachio puree, powdered sugar, almond flour, white flour, plant-based milk, and salt until you get a smooth cream. Spread the cream on the dough.
Apricot
Sprinkle almond flour over the pistachio cream.

Arrange the apricot so the inside is up, starting at the outer side towards the center. Sprinkle sugar over the apricot with a teaspoon.

Bake in the center of the oven for about 45 minutes until the apricot is soft and the sugar caramelizes a little; Take out and let cool on a wire rack.
Glazing
Heat the apricot jam in the microwave for about twenty seconds until it melts; Mix and brush the apricots lightly; One Tablespoon of jam should be enough to brush all the apricots in the pan. Let cool to room temperature.
For Serving
Serve with pistachio ice cream (recipe coming soon) or vanilla ice cream, sprinkle with roasted and salted pistachios and serve.

The tart keeps in the refrigerator for several days.
Notes
Please note: It's crucial to use only ripe, soft, and sweet apricots – otherwise, you will get a very sour tart.