In the evenings, you can already feel the wings of the redemptive autumn, carrying a promise for cooler days.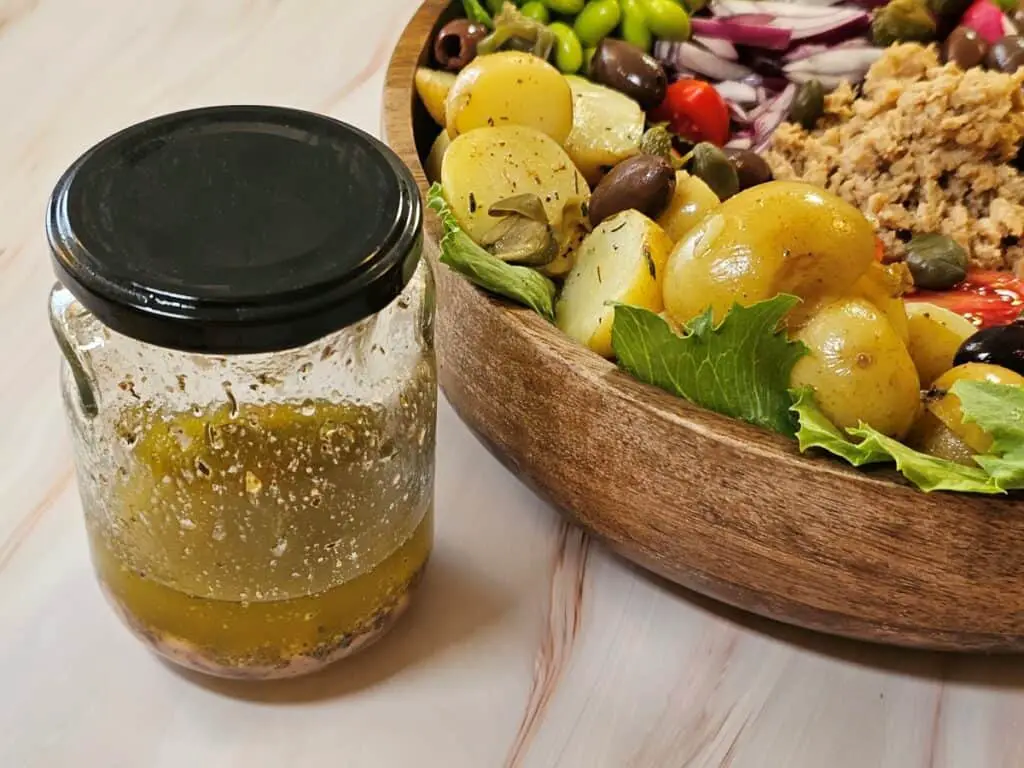 When the air conditioner is still working overtime, here is a light meal: vegan Nicoise salad.
There are countless versions of this salad – anything goes. It generally contains tuna fish, potatoes, hard-boiled eggs, and green beans.
So I replaced the tuna with vegan tuna and the eggs with edamame; I added radishes, purple onions, cherry tomatoes, olives, capers, and a vinaigrette dressing.
The result was a light, tasty, and satisfying dish – I didn't have to accompany it with bread!
Enjoy, and let me know how it turned out 😋❣
Vegan Nicoise Salad
French Buddha Bawl: Simple, and yet genius! Although there are no special instructions to make this delicious salad – There is one little trick – that takes it to the next level. This Nicoise salad is excellent as a light meal, together with a baguette, or as a buffet dish.
Ingredients
Vinaigrette Dressing
1-2

Tablespoon

lemon juice

or white wine vinegar

¼

cup

olive oil

1

Tablespoon

small red onion, finely chopped

½

tsp

dried thyme

½

tsp

oregano, dried and crumbled

¼

tsp

tarragon, dried and crumbled

½

tsp

mustard spread

salt and black pepper
Salad
180

gram

vegan tuna fish

100

gram

edamame, peeled and frozen

100

gram

Green beans, frozen and cut into two or three

250

gram

baby potatoes, washed

no need to peel

Crunchy lettuce

To line the serving bowl

6

Cherry tomatoes halved lengthwise

6

Radishes cut into quarters

½

small red onion, finely sliced

2

Tablespoon

black kalamata olives

1

Tablespoon

capers, washed
Instructions
Vinaigrette Dressing
Put all the ingredients for the dressing in a small jar, close with the lid, and shake well.
Salad
Put the onion slices in a small bowl, pour over one tablespoon of the dressing, and mix gently. Keep aside.

Put the green beans in a small bowl, sprinkle a little salt, and pour boiling water to cover. Keep aside.

Put the edamame in a bowl, sprinkle a little salt, and pour boiling water to cover. Keep aside.

Put the potatoes in a pot, no need to peel them, cover with water, add a teaspoon of salt, bring to a boil, lower the heat, and cook for 12-15 minutes until they soften but not too much.

Drain the potatoes, let them cool a little, and cut them in half (or more, depending on the size) when they are still warm. Transfer to a small bowl and pour a spoonful of the dressing. Mix gently and keep aside.
For Serving
Line a plate or serving bowl with lettuce leaves.

Place the tuna in the center – shape it into a small pile

Arrange tomatoes, onion and radish around the tuna.

filter the green beans and the edamame

Arrange potatoes, green, and edamame around the tomatoes, onion, and radish.

Sprinkle over black olives and capers, and pour the rest of the dressing.

Serve immediately, warm or at room temperature. Accompany the salad with a baguette or some rustic bread.