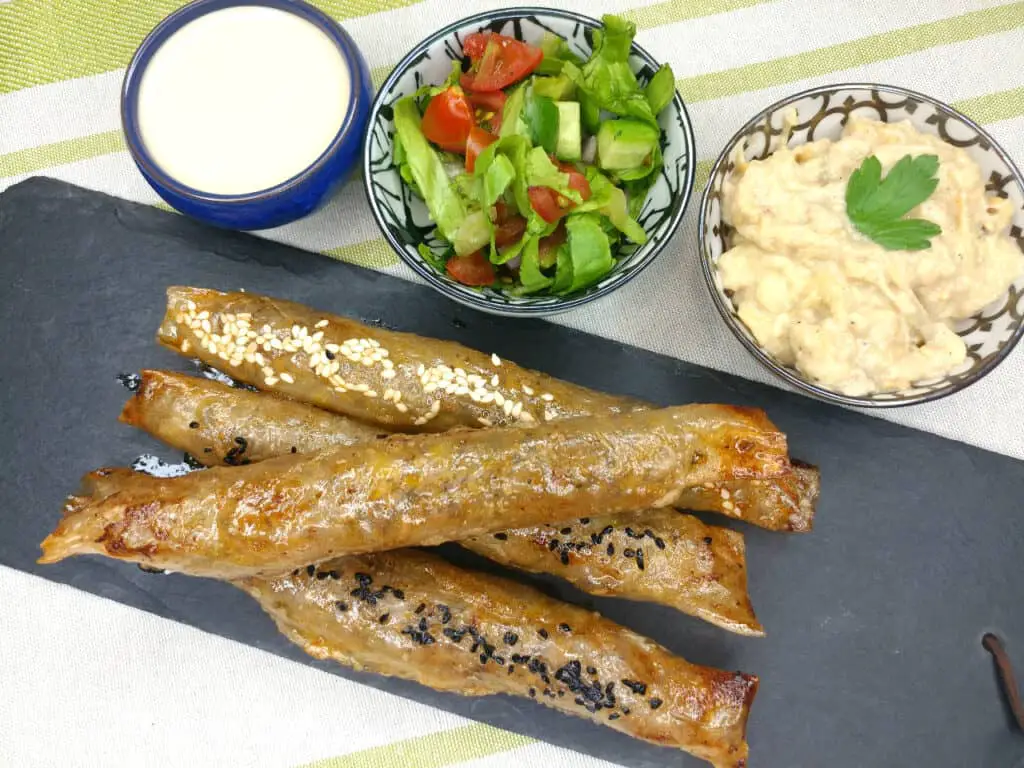 When I started the series of Moroccan recipes like Meatballs in Lemon and Olive Sauce, Vegan Kebab With Pistachio, and the spice mixture Ras El Hanut, I thought it could not be complete without a vegan recipe for Moroccan cigars!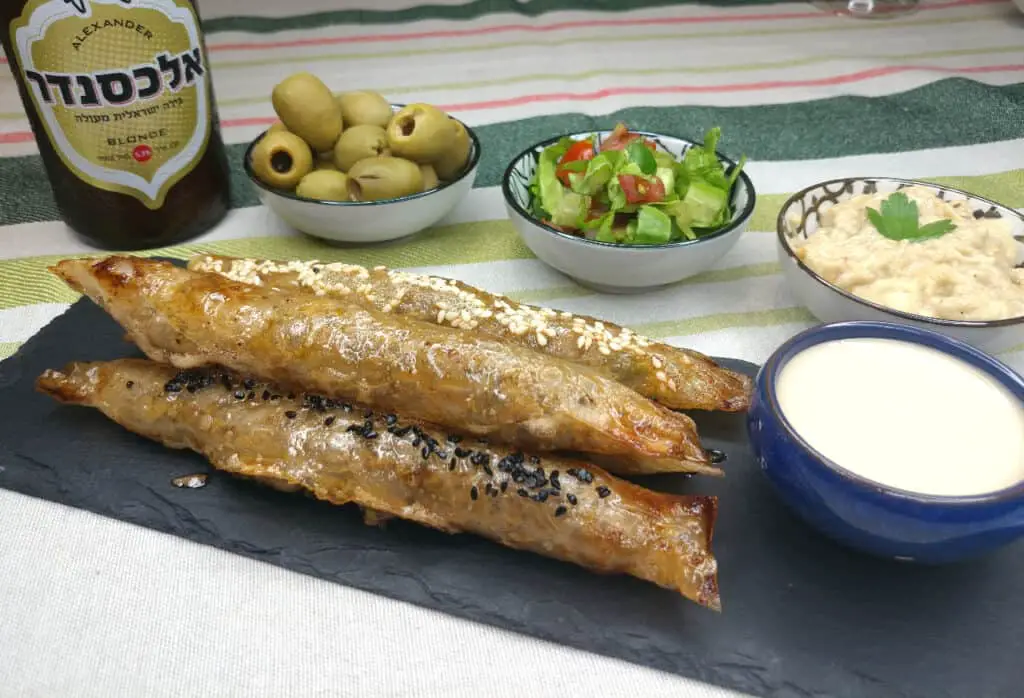 And since rice paper is similar to cigar leaves, then why not make it Gluten-Free too?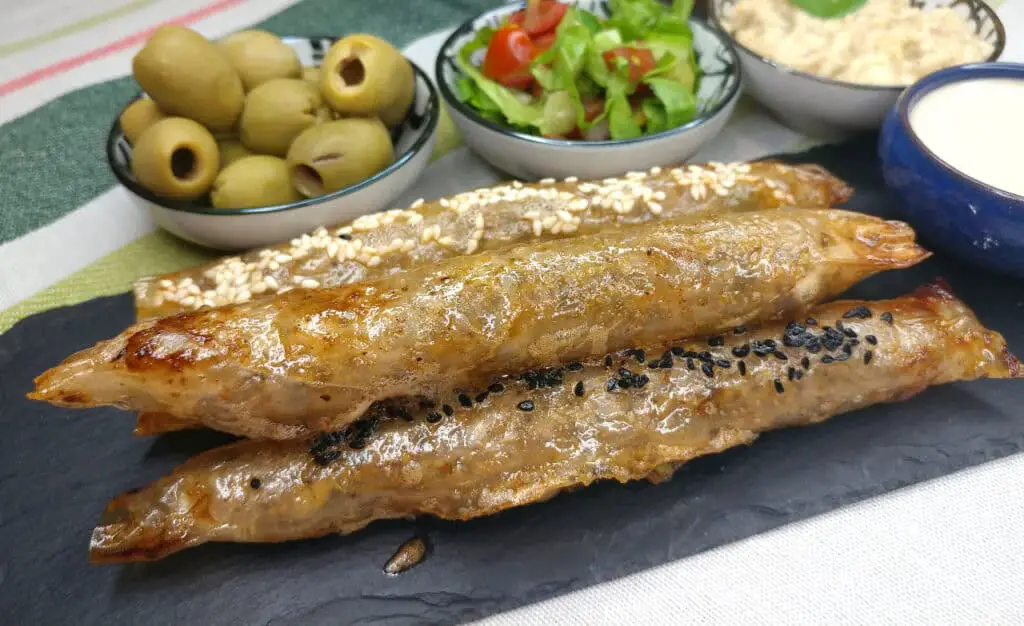 I rolled up my sleeves, mixed vegan minced meat and mushrooms, added some goodies like pine nuts and pistachios, and of course Ras al-Hanut, the fingerprint of North African cuisine.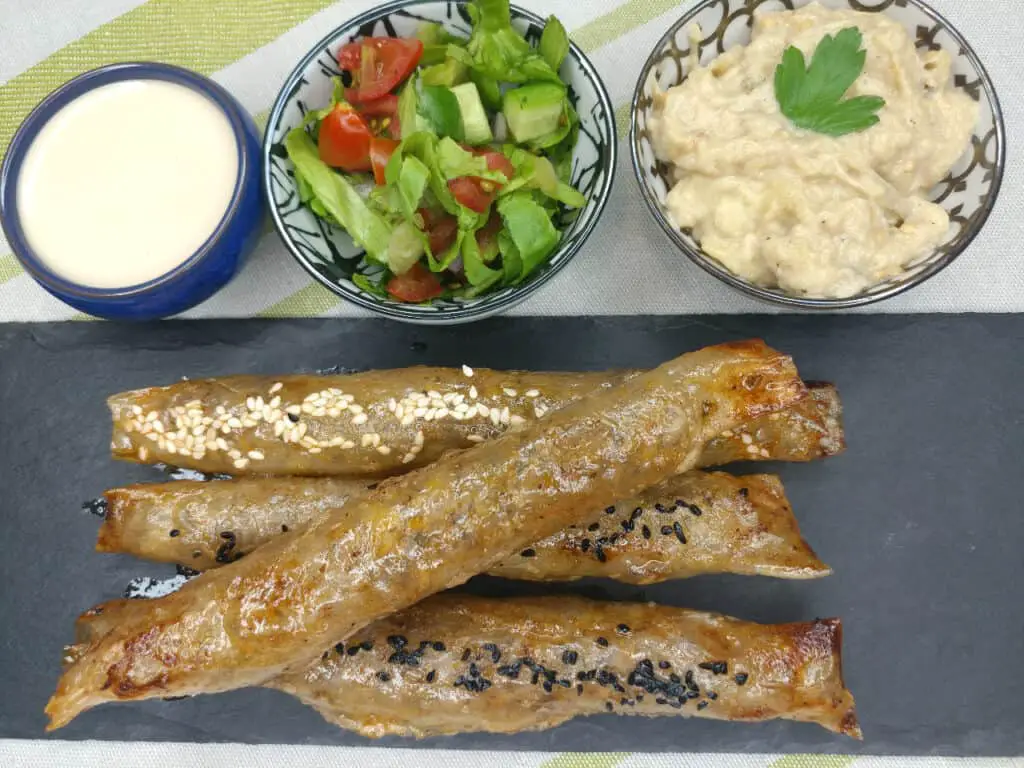 I brushed the cigars with "egg" for color and flavor, a mixture that looks and acts like an actual egg, then sprinkled sesame and black cumin on top. Unlike the traditional recipe in which the cigars are deep-fried, I baked them.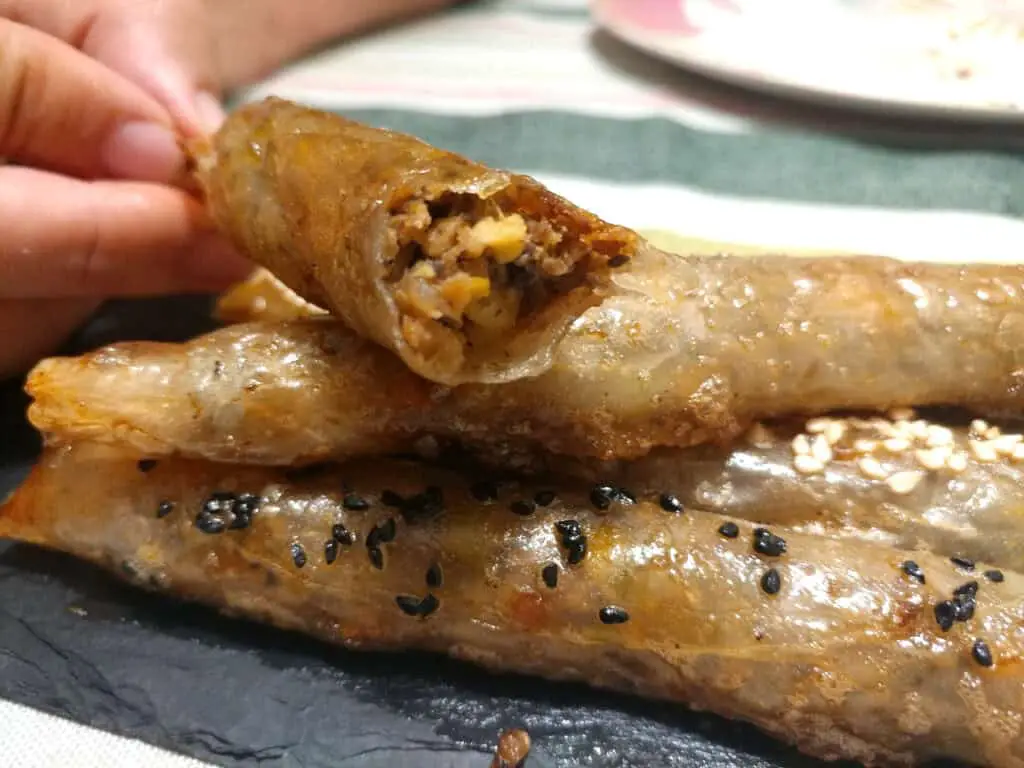 I got crispy cigars that were gone in the blink of an eye (you may want to double the amount in advance 🙂
These vegan and gluten-free meat cigars are suitable as an appetizer, part of a buffet, or snack. Serve with tahini, salads, or any dip you desire.
Enjoy and let me know how it turned out ❣️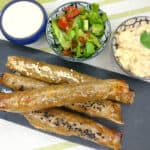 Vegan Meat Moroccan Cigars Gluten Free
Rice paper replaces traditional cigar crepes, stuffed with a delicious filling of vegan meat and mushrooms, rolled into cigars, brushed with "egg," and baked in the oven. Our cigars are similar to the original version in taste and texture but are gluten-free and healthier.
Ingredients
8-10 cigars
8-10

Rice paper sheets 22 cm (8.6 inches) in diameter
Meat Filling
1-2

Tbsp

olive oil

25

grams

Minced plant-based protein (TVP), soaked in boiling water for 5 minutes, drained, and squeezed.

small onion, chopped

100

grams

chopped mushrooms

Champignon or Portobello

1-2

cloves

minced garlic

1-2

Tbsp

pine nuts or pistachios

or mixture of both

salt

by taste

¼

tsp

Ras El Hannut

¼

tsp

paprika or smoked paprika

⅛

tsp

ground black pepper
hot paprika

by taste
Garnish
Sesame seeds, black cumin seeds

optional
Instructions
Meat Filling
Heat olive oil in a large skillet or wok.

Fry onion until softened and slightly golden; Add minced garlic and fry for a few more seconds.

Add pine nuts and pistachios, fry for a few more seconds; Add TVP and fry for a few minutes until slightly golden; Add mushrooms and fry for a few more minutes.

Add spices, fry for a minute; Taste and adjust seasoning if necessary.
Egg" Coating"
In a small bowl, mix oil, lecithin, agave, salt, sugar, black pepper, and hot paprika; Set aside.
Assembly
Preheat oven to 180 degrees Celsius

Hold a rice paper sheet under running water for a second or two (no more!) And place it on the counter.

Place two tablespoons of filling at the bottom of the rice paper sheet, leaving 1-2 cm blank at the edges.

Press the edges; if they are longer than 1-2 cm, you can cut out the spare parts.

Place on a baking tray lined with baking paper.

Brush with the "egg" mixture, and sprinkle with sesame or black cumin (optional).

Place in the oven, bake for 15 minutes, increase to 200 degrees Celsius, and bake until golden. (5-10 minutes) )

Serve with salads, tahini, or any dip you desire.