I first came across this (non-vegan) dish somewhere in the 1990s at Dita's mythical bar on Marmorek Street in Tel-Aviv; I instantly fell in love! It was an addictive dish, which ended much too quickly, with unfamiliar flavors (for a girl coming from an ultra-Orthodox family 😉)
Years later, I discovered the recipe in a food magazine and made it at home, only once, for closure (and to avoid cholesterol issues 😊)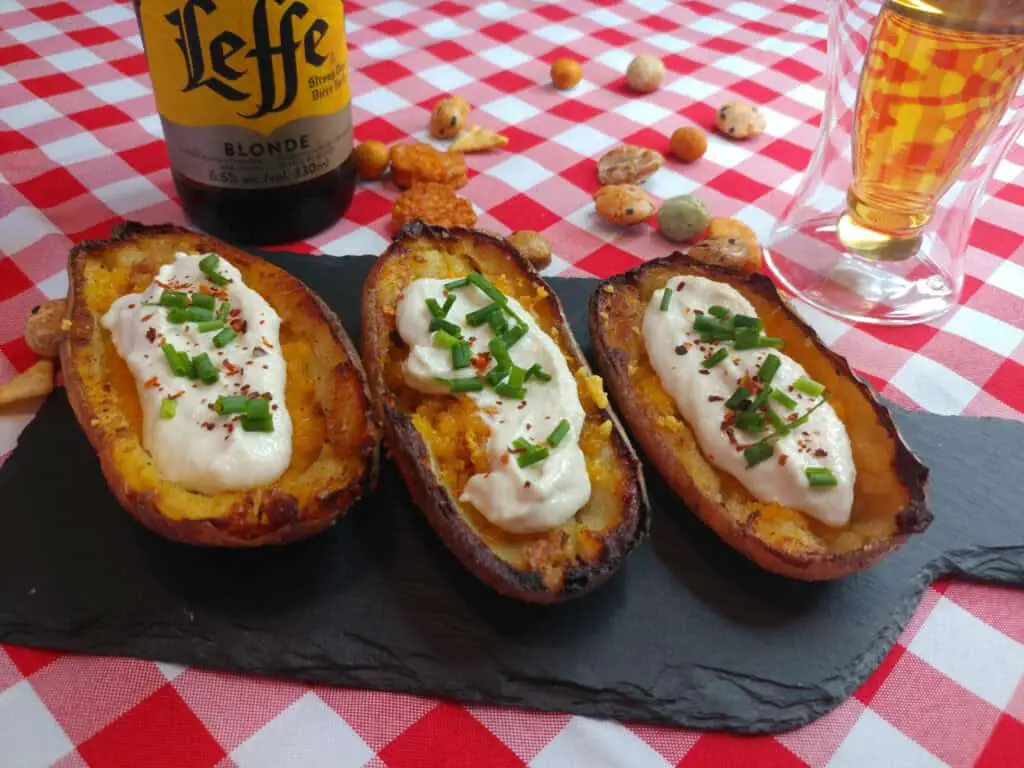 After starting the blog, I longed for this decadent dish and looked for ways to veganize it.
I was happy to find out that there is a delicious vegan cheddar cheese on the market, similar to the original.
I turned to look for a bacon substitute: tofu bacon seemed to be the most suitable, both in taste and texture.
Then, I recalled Ruth Sirkis' kosher recipe for Quiche Lorraine, in which the bacon was replaced with Bissli BBQ (a popular Israeli snack), which has a unique taste and texture.
And finally, I was looking for a recipe for vegan sour cream, a rather challenging task: most of the recipes contained cashews or just silken tofu (which yielded more dressing texture than cream). I find that the taste of cashews is too dominant in sour cream recipes. The color, as well as the flavor, are much different from the original.
Most importantly, sour cream made of cashews hardly clots in baking.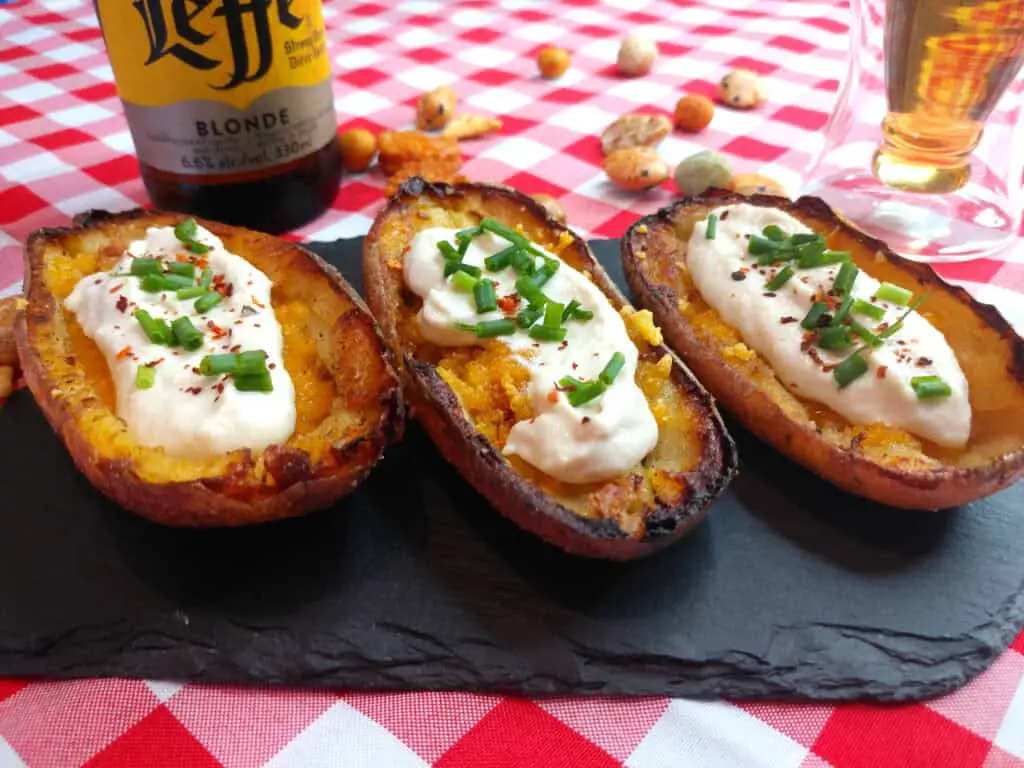 So I sat down in my meditation armchair with "Lila" playing in the background: "What could replace the actual sour cream in taste, texture, and color? One that will contain a high level of protein – so it clots in baking?"
The answer came before the song ended: Almonds!
From here, it was easy: almonds and silken tofu in a ratio of 1: 2, with lemon juice, apple cider vinegar, and salt in a blender yielded a perfect sour cream with a delicious taste and a typical color of regular sour cream.
I use it in dishes such as Rakott Krumpli, a Hungarian style potato pastry (recipe coming soon), or as a topping for an apple pie (recipe coming soon too 😊)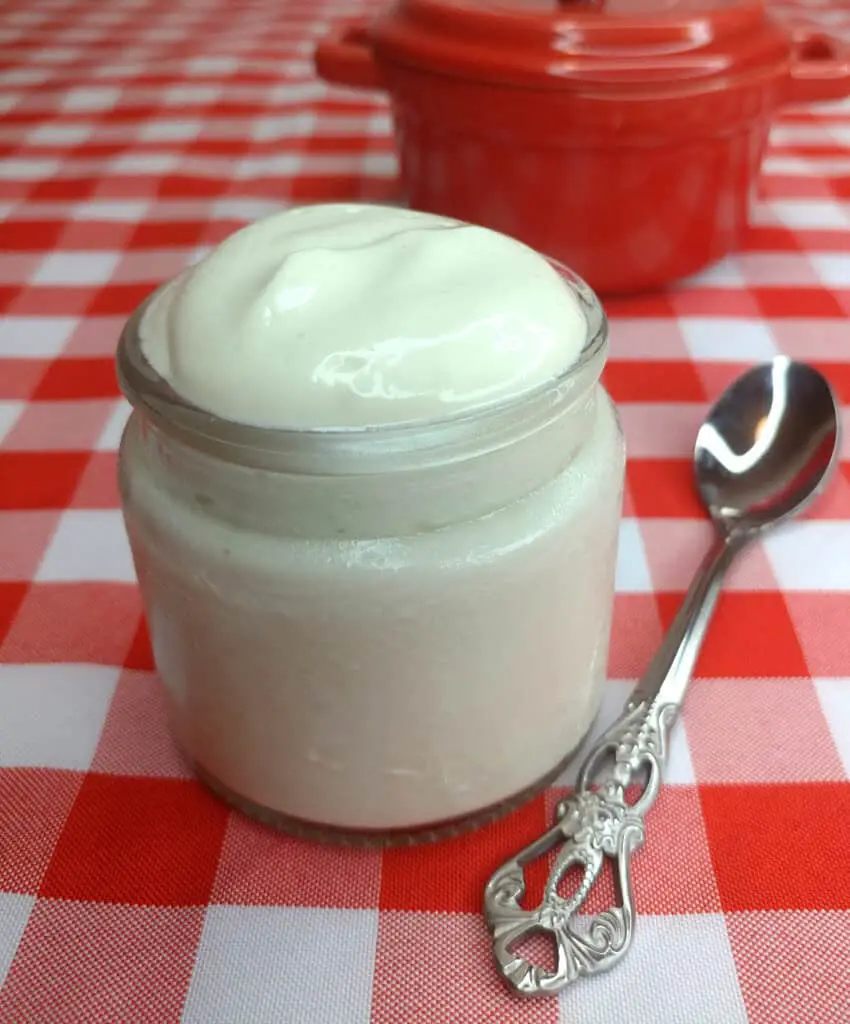 Since almonds do not have the buttery texture of cashews, the sour cream was not 100% smooth, which is fine for me;
But when it came to uploading the recipe to the blog – it was important to me to bring it to perfection!
And so I sieved the cream through a nut bag and squeezed it as hard as I could.
I got a velvety thick sour cream – mission accomplished!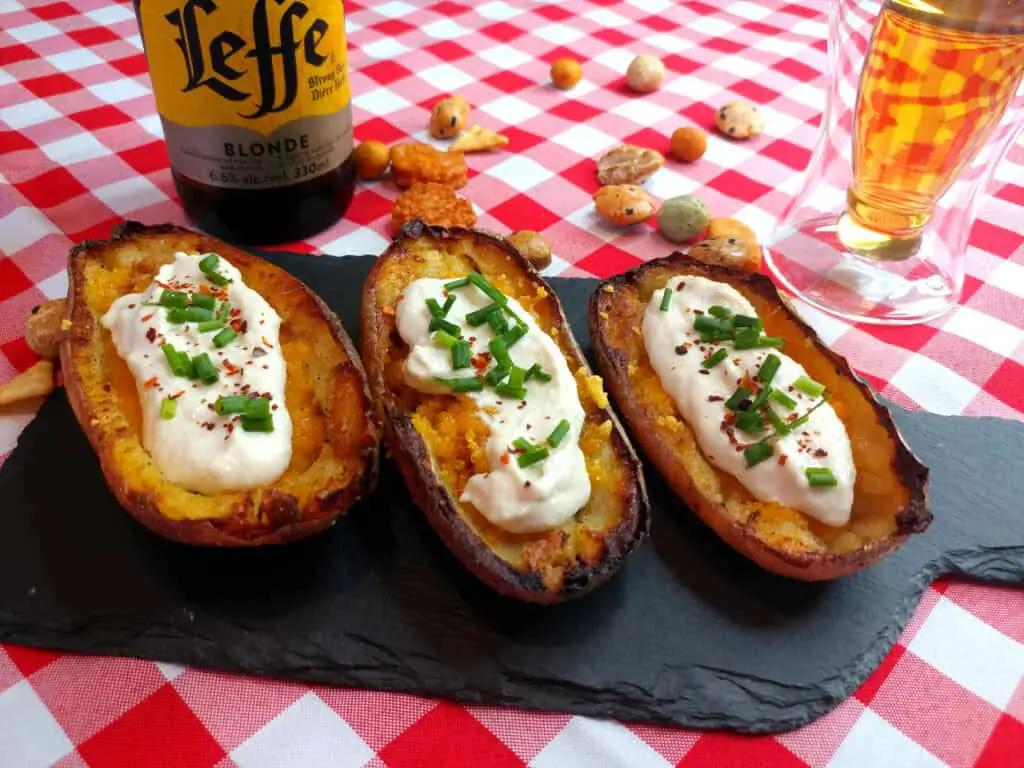 Making the dish was easy because the whole process is simple once you have the raw materials on hand.
These vegan bacon and vegan cheddar potato skins are excellent for entertaining or as a snack served with a cold Beer (and Manches) while watching one of the sports channels 😉
Enjoy and let me know how it turned out 🥔 ❤️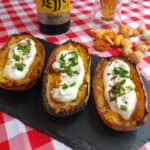 Vegan Bacon and Vegan Cheddar Potato Skins
A decadent dish with no trace of sin! Crispy Double baked potatoes Stuffed with a "secret" vegan bacon, grated vegan cheddar cheese topped with sour cream made of almonds (recipe attached), garnished with chopped chives and chili flakes.
Great for entertaining, perfect as an appetizer, entree, or snack. Serve along with a chilled beer (and Manches), and you get a delicious companion to watch one of those sports channels – anything goes!
Instructions
Early preparations
Preheat the oven to 180 degrees Celsius.

Grate the vegan cheddar cheese. If the cheese is sliced, cut the slices into cubes and process in a food processor until you get thin crumbs.

Place the Bissli in a plastic bag, close tightly, and grind coarsely with a kitchen hammer.
Potatoes
Bake the potatoes with the skin at 180 degrees Celcius until softened so that a fork or skewer will pass through easily.

Remove the potatoes from the oven and increase the heat to 200 degrees Celsius.

Cut the potatoes lengthwise.

Scoop out the pulp, leaving about 1/4 inch bottom and sides (save the pulp for another use such as Vegan Croquettes)

Line a pan with a baking sheet; Spray or brush the baking sheet with oil.

Combine oil with salt, garlic powder, onion powder, paprika, and black pepper; brush over both sides of the skins.

Place in the oven (at 200 degrees Celsius) and bake for 5-7 minutes on each side (10-14 minutes in total) until the potato skins become crispy.

Remove from the oven, sprinkle Bissli Crumbs or vegan Tofu Bacon.

Fill the potatoes with grated vegan cheddar. Return to the oven and bake for another 5 minutes until the vegan cheddar softens.
For Serving
Remove from the oven, garnish with a tablespoon of vegan sour cream on each unit, sprinkle with chopped chives (or green onions) and chili flakes. Serve immediately.
Vegan Sour Cream
Drain the almonds from the soaking water and rinse well. Place in a strong blender and process for a few minutes until thin crumbs are obtained.

Add the rest of the ingredients: silk tofu, lemon juice, apple cider vinegar and salt and process for a few minutes until smooth.

Place a bag of nut milk on a vessel that will comfortably hold the mixture. Pour the mixture into the bag.

Squeeze the nut-bag as hard as possible. At the end of the process, a solid mixture will remain in the bag -save it for other uses such as Vegan Feta Cheese (recipe soon).

Transfer the cream to an airtight jar and place it in the refrigerator to set for about an hour.

The sour cream is excellent as it is, as a dip, a garnish to various dishes. In addition, it clots in baking like actual sour cream, making it ideal for cake filling and icing, pies, and so much more.