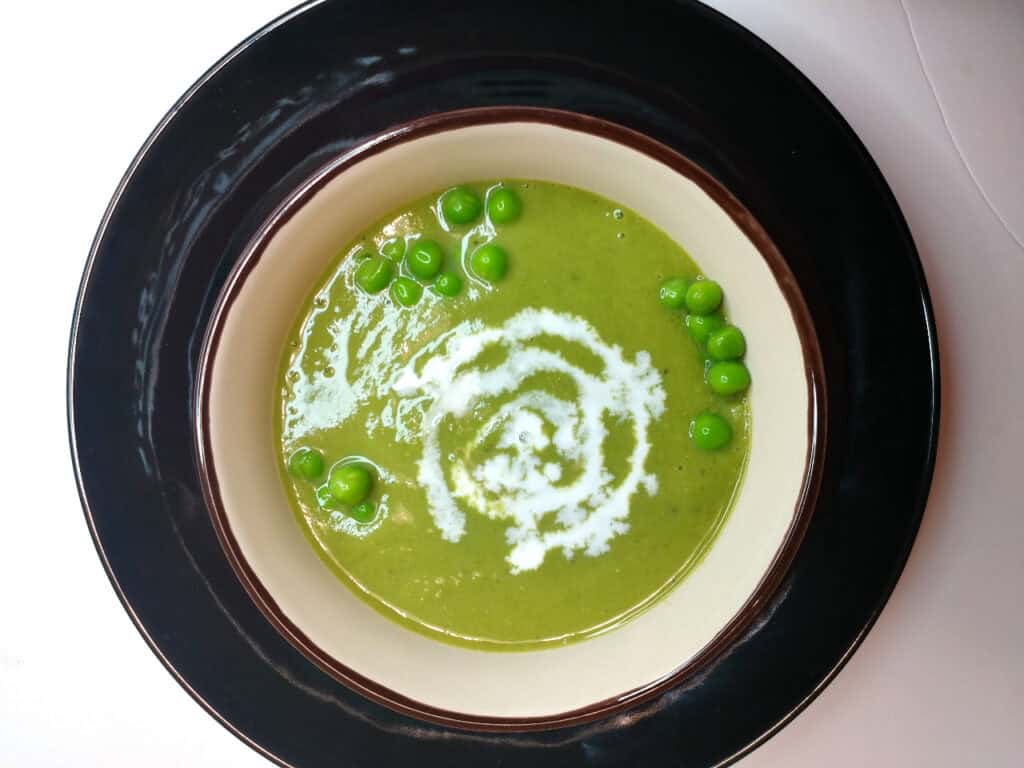 Soup for me is a cozy home, a consolation prize, a dish that warms the stomach and the atmosphere and connects the diners. Soup is one of my favorite dishes in any form: creamy, clear, with chunks of vegetables, thick, thin, hot, cold – you name it! It's true that in the 'orphanages' books genre, you come across the term 'muddy soup. However, one must be super creative, with a twisted mind – like the bad guys in 'Oliver Twist, 'Tom Sawyer' and such to ruin a soup.
Bottom line: anyone can make a delicious and nutritious soup. You can't miss it!
When it comes to Green Pea soup, I am an avid consumer of both versions: dried and fresh (or frozen.
In this recipe, we use frozen green pea which is quick to cook, available, and gives the soup a bright green color.
Start by steaming chopped onion, adding minced garlic, celery and spinach, green pea, and finally boiling water and seasoning. Bring to a boil, lower the heat and cook for only five minutes—the shorter the cooking time, the brighter green the soup is. Next, grind the soup with a stick blender, add your favorite toppings such as whole green peas, vegan sour cream, coconut milk, croutons, or parmesan. Serve with bread or baguette.
Let me know how it turned out❣️
Green Pea Spinach Cream Soup
Easy to make soup; Minimum ingredients – maximum flavor! Warming, comforting, delicious, and nutritious! A light meal with the addition of bread or a baguette.
Ingredients
Soup
1

large onion, chopped

3

cloves

minced garlic

2

sticks

celery, washed well and chopped

If there are a few leaves you can add them as well

200

gram

baby spinach, washed

800

gram

frozen green pea

or fresh

4

cups

boiling water

½

tsp

thyme or dried mint

or fresh mint using about 6 sprigs

salt, black pepper by taste
For Serving
Croutons, vegan parmesan, whole green peas, vegan sour cream, coconut milk, bread or baguette
Instructions
Heat olive oil in a saucepan, add chopped onion, and fry until it becomes translucent. Add minced garlic and stir for a few seconds until it smells delicious. Add chopped celery and spinach and stir for another 2 minutes.

Add green pea, boiling water, and spices and mix well. If you want to garnish with whole green peas, keep a few tablespoons and soak them in boiling water, covered, for about 15 minutes.

Bring to a boil and lower the flame. Cook for 5 minutes only.

Grind in a stick blender. If the soup is too thick, add more boiling water. Taste seasoning and adjust if necessary.

Serve with croutons, whole green peas, vegan sour cream or coconut milk, vegan parmesan, bread or baguette.
Notes
Cook for no longer than 5 minutes – to preserve the beautiful bright green color.
Comforting soup accompanied by a soothing song, fabulous Dany Klein