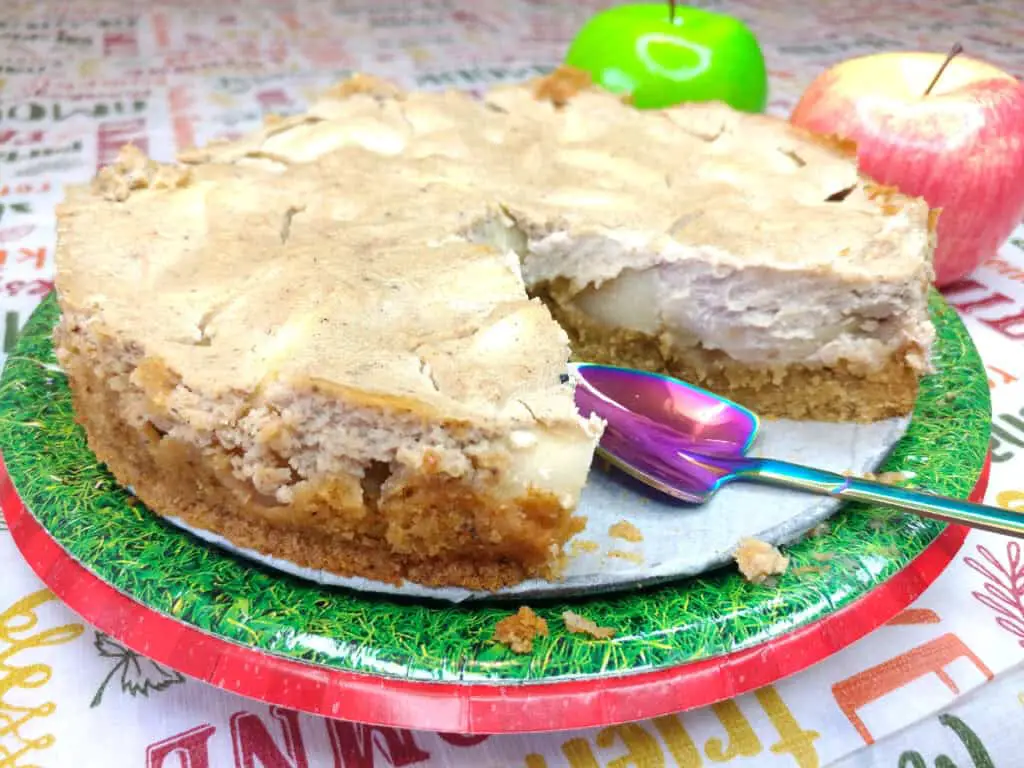 For me, an apple pie means a cozy home, a comforting dish that stands on its own (at home or in a restaurant), or a dessert that leaves a sweet kiss in the mouth.

There are so many variations for this classic dish! Starting with Apple Pie, Tart Tatin, and Apple Strudel (recipe coming soon :)) through Hungarian apple cake (recipe coming soon too), an upside-down apple cake, up to recipes that play with the basic ingredients: apples, flour, sugar, and fat.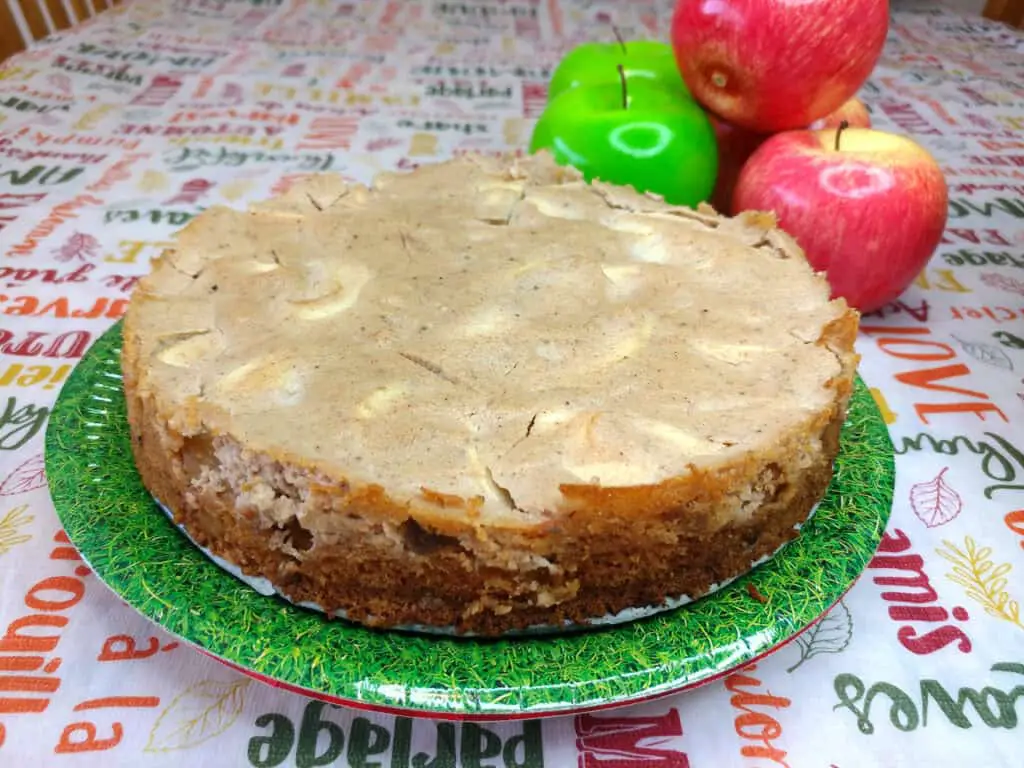 No matter what style the apple cake is, it always belongs to the classics of cakes, the ones that stand the most brutal test of all – the test of TIME.
Undoubtedly, apple cake is a rib in the holy trinity of cakes: cheese, chocolate, and apples. Isn't it?
So what do we have here: a crunchy crust, topped with apple slices which are not cooked or caramelized but soaked in boiling water to preserve their crunchiness, coated with a mixture of vegan sour cream, sugar, cinnamon, and ground cardamom.
You can't fail with this easy recipe!
Enjoy and let me know how it turned out ❣️
Apple Cake With Vegan Sour Cream Coating
Crispy dough base, topped with crunchy apple slices and a mixture of vegan sour cream, sugar, cinnamon, and ground cardamom. A classic dish with a twist 🥰
Ingredients
Apples
3-4

green apples

depends on size; I used 4 small apples
Instructions
Early Preparation
Preheat oven to 180 degrees Celsius. (356 F)

Line the pan with baking paper and grease well (including the baking paper)
Crust
Mix all the ingredients in a food processor for a few seconds until it forms into a ball.

Line the dough on the bottom of the greased pan. (Bottom only – no sides)
Vegan Sour Cream Coating
Mix sour cream, sugar, cinnamon and cardamom in a bowl and set aside.
Apples
Peel the apples, cut into 8 slices and remove the cores.

Place the apples in a bowl, pour boiling water until the apples are covered, cover with a lid, and set aside for 15 minutes. It will "wet" the apples and soften them a bit. *

Strain the apples ** and place them densely over the dough; Don't worry if they overlap.

Place in the oven and bake for 30-35 minutes until the apples soften slightly (prick with a wooden skewer)

Remove from the oven (to spread the sour cream coating)
Vegan Sour Cream Coating
Pour the sour cream mixture over the apples. If necessary, tilt the mold to ensure an even coating (with kitchen gloves, of course – to avoid burns 🙂

Return to the oven and bake for another 10-15 minutes until the coating sets and turns golden.

Remove and cool on a wire rack; To safely remove the cake from the pan, pass a knife or metal spatula around the cake before releasing the spring.
Notes
* In this method of soaking the apples in boiling water, you get a cake with "al dente" crunchy apples; if you prefer a cake with soft apples, cook the apples in boiling water until half softened and continue by the recipe.
** Do not spill the soaking water of the apples; You can use it for smoothies etc.; I add them to my water bottle 🙂
*** Based on a recipe from Ruth Sirkis' book "From the Kitchen with joy."