Vegan White Pizza With Almond Ricotta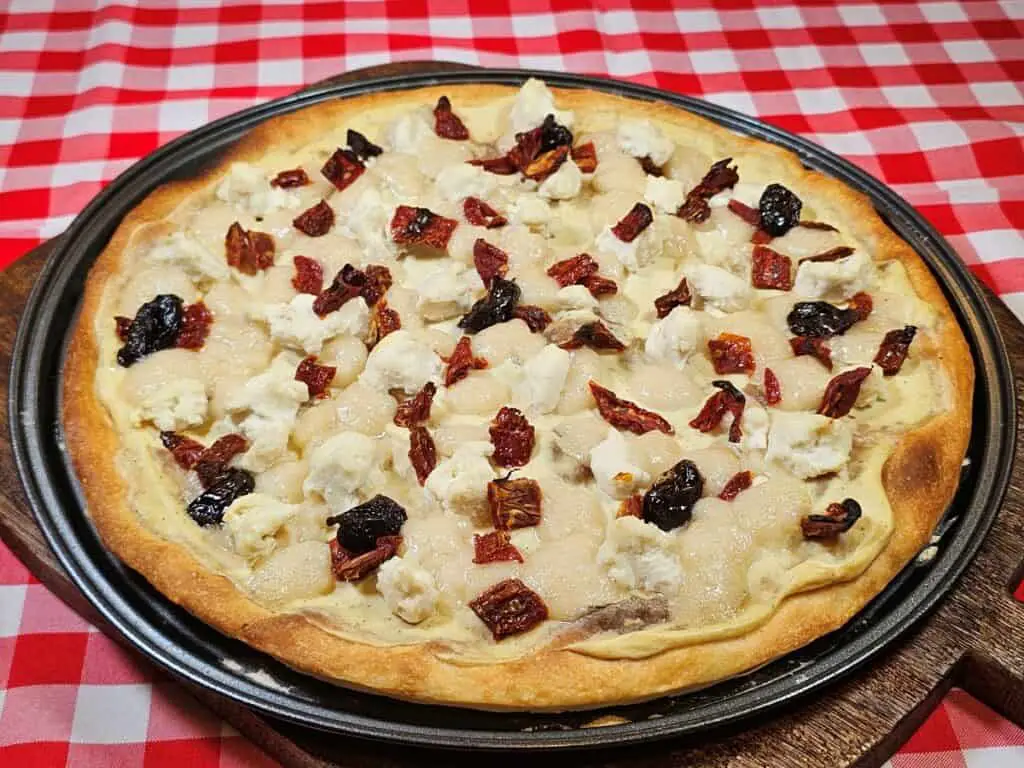 pizza!
When you work over-hours in the office – you usually order Pizza! Because there is nothing like Pizza to relax muscles contracted from stress or frustration 😉 Pizza brings a smile back to your face, comforts the palate and the soul, and removes harmful energies.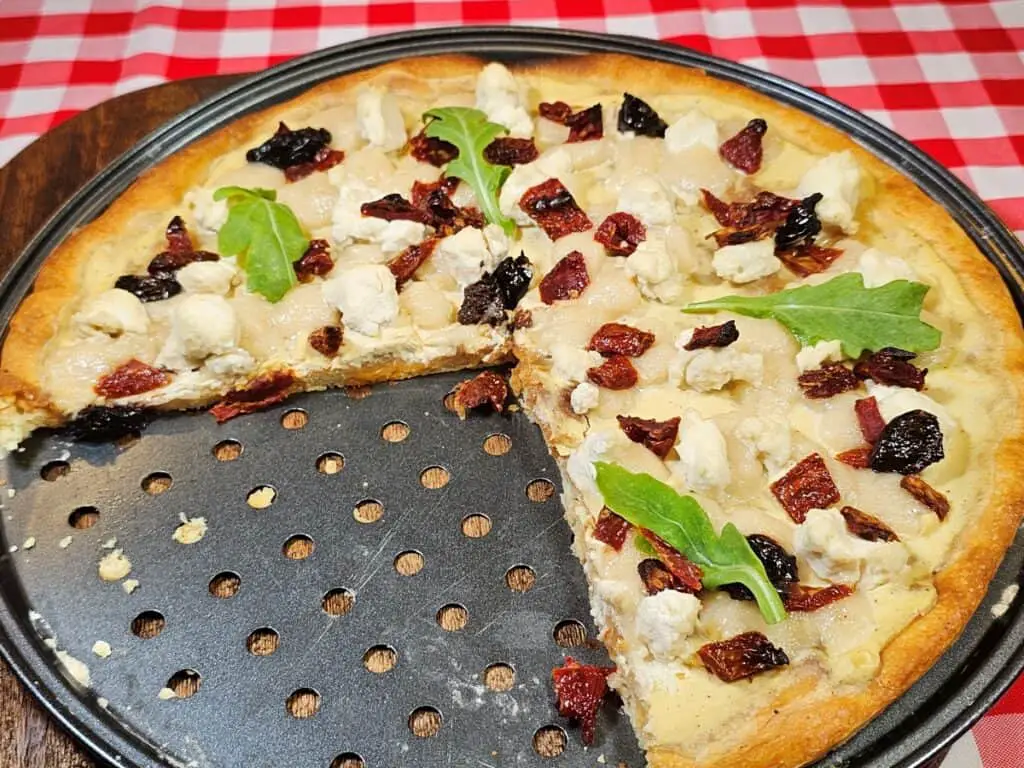 But, as with most foods – there is pizza, and there is pizza!
Unfortunately, some greasy pizzas with poor nutritional values are devoured, mainly because of the smell that overwhelms the senses.
By the way, did you know? – In some places, mainly in office areas, they spray Pizza smell outside the elevator – thereby capturing the innocent passengers who are drawn mesmerized by the nearby pizzeria just like a butterfly to the light.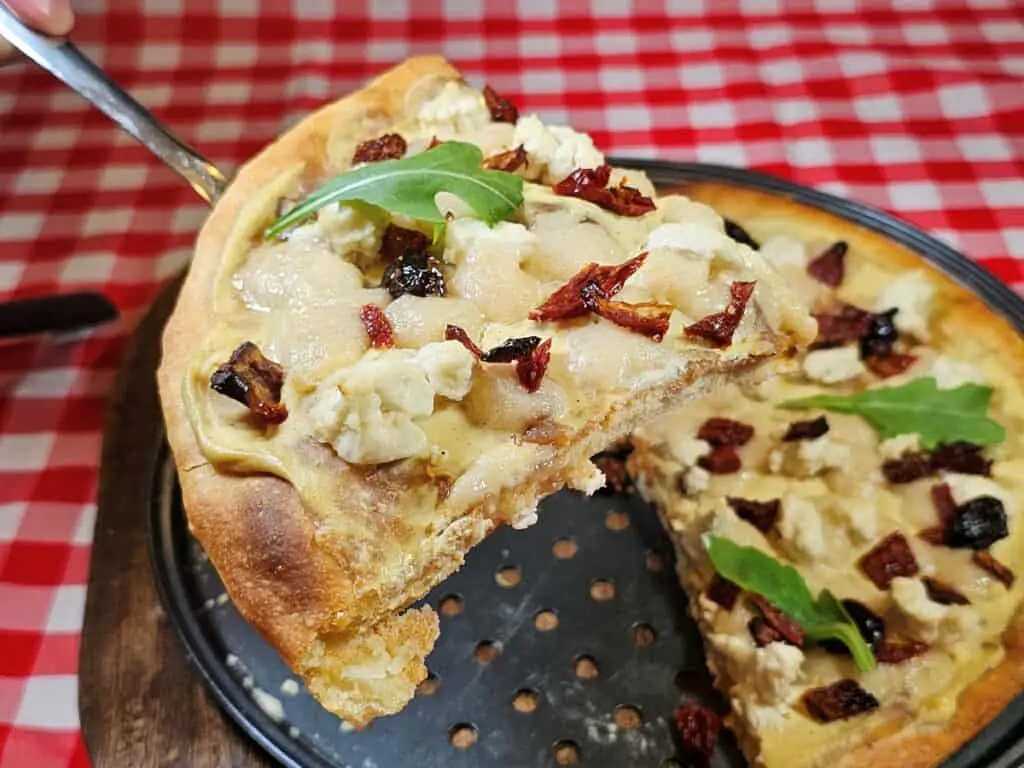 And there are also gourmet pizzas: recently, in one of my non-vegan glitches, I tasted a Pizza Bianca for the first time.
It was one of the best pizzas I've ever had! It had a "hybrid" crust – a texture between pizza dough and focaccia, topped with parmesan cream, Ricotta, a thin line of tomato sauce, and fresh rocket leaves!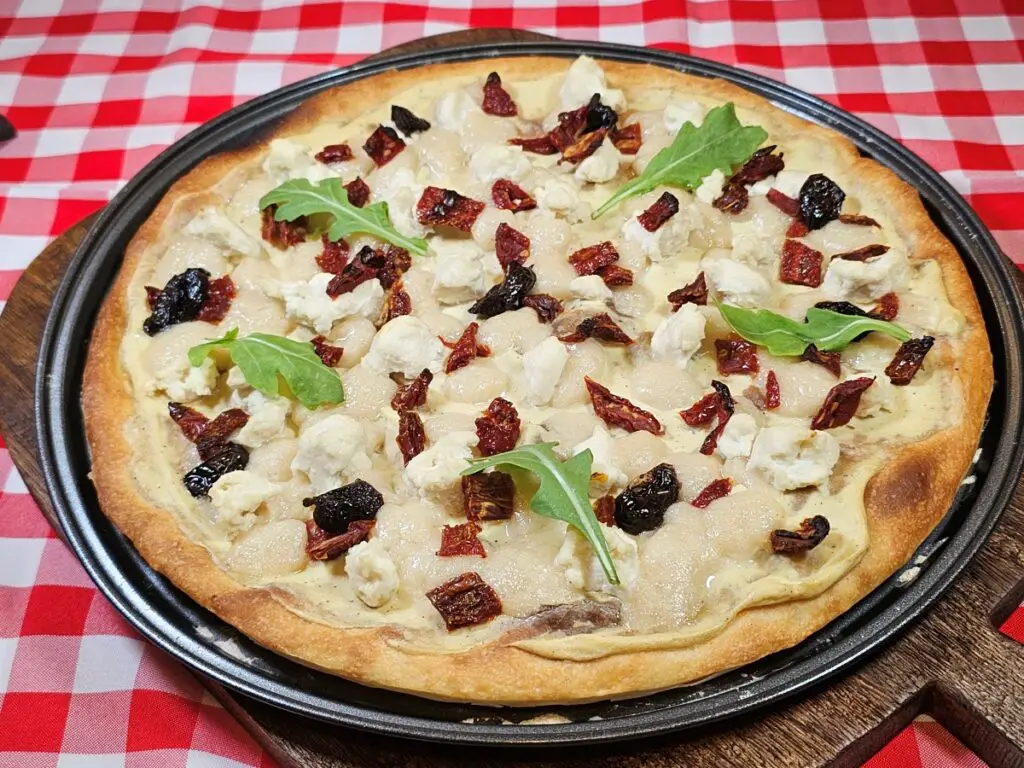 Of course, I got excited about the concept and decided to create a vegan version:
First, I experimented with the crust until I reached the desired texture.
Next, I made an excellent almond ricotta similar to the original in taste and texture. Then I made vegan mozzarella that melts. (Recipe coming soon)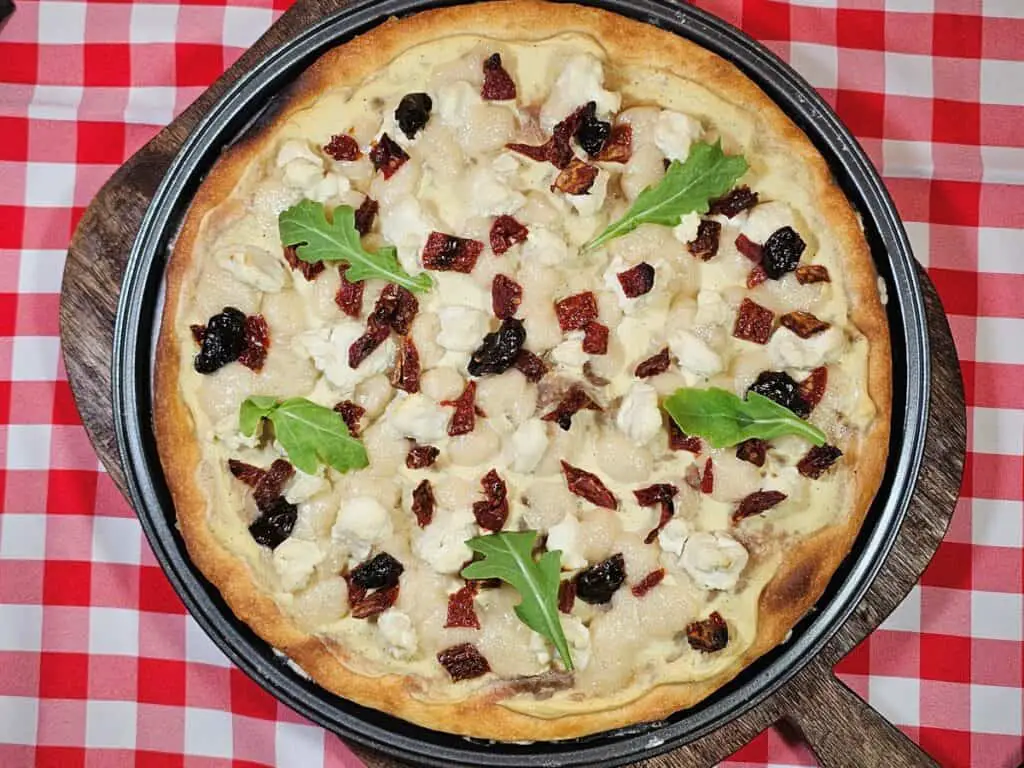 Finally, I made tofu cream.
I replaced the thin tomato strip with sun-dried tomatoes and added chopped black Tassos olives for color and flavor.
I served this delicious vegan Pizza Bianca with rocket leaves and basil. It was devoured in a blink of an eye. Everyone, without exception, including my non-vegan friends, admitted with a full mouth that they wouldn't have noticed it was a vegan pizza if I hadn't told them.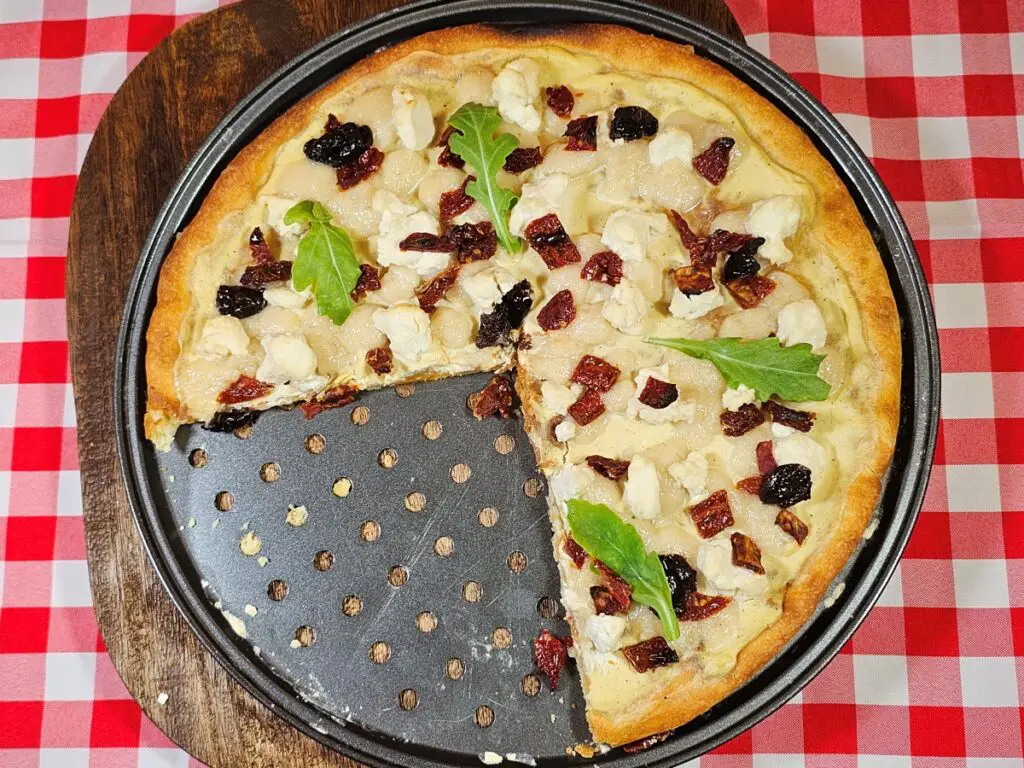 Enjoy, and let me know how it turned out – Buon Appetito😋❣
Vegan Pizza Bianca
Make pizza-focaccia crust, bake briefly, spread tofu cream on top, sprinkle with vegan mozzarella, almond ricotta, sun-dried tomatoes, and black Tassos olives, and return to the oven. Serve with rocket or basil leaves 😋❣
Ingredients
Crust
Toppings
100

gram

almond ricotta

or vegan goat cheese

100-120

gram

mozzarella, grated

or more, by taste

4-6

units

sundried tomatoes, cut into small cubes

by taste

black Tassos olives

optional, by taste
For Serving
rocket leaves, basil, chili flakes, oregano
Instructions
Crust
Place baking paper on the work surface and place on top a round pizza pan with holes of about 31 cm, 12 inches, so the work surface does not get dirty.

Mix flour, oil, salt, and water in a bowl until you get a sticky dough. Grease your hands with olive oil, and form a ball.

Lightly oil a bowl with olive oil and put the dough ball in it. Cover with a kitchen towel and leave to rise for an hour at room temperature.

Preheat oven to 250 degrees Celsius – 482 F

Transfer the risen dough to the floured pan, grease the palms of your hands with olive oil, and flatten the dough to cover the bottom of the pan evenly.

Put in the hot oven and bake for 8 minutes until the dough sets and turns golden. Meanwhile, prepare the tofu cream.
Tofu Cream
Put tofu, milk, tapioca, garlic, brewer's yeast, salt and pepper, garlic powder, and onion powder in a blender and process to a smooth cream. Taste and adjust seasoning if necessary.

Take the crust out of the oven, and spread the cream evenly, leaving a margin of about 1 cm (0.5 inch).
Toppings
Sprinkle with grated mozzarella over the tofu cream; arrange small pieces of almond ricotta or vegan goat cheese on top of the mozzarella. Add chopped dried tomatoes and olives.

Bake for six to seven minutes until the edges of the dough are golden-brown and the mozzarella has melted.
For Serving
Garnish with rocket or basil leaves, slice, and serve with oregano, chili powder, or your favorite spices.