A sweet and sour closure: About 30 years ago, I received a non-vegan recipe for a lemon pie; It was my first encounter with this delightful dish. It's my turn, now, to share with you my vegan version of this delicious dessert.
Anyone can make a lemon tart! The ingredients are available all year round – but the refreshing filling makes it a definite summer treat❣️
There are many versions of lemon tart: some add whipped cream or meringue to the lemon filling, while others prefer an intense lemon flavor.
Some prefer a snowy meringue topping, and some choose whipped cream instead.
Some prefer firm filling that feels almost like jelly candies, while others (like me, for example) like a stable yet soft filling, which creates a contrast to the crunchy crust.
In any case – this is a rustic and elegant dessert at the same time. Comfort food on the one hand and impressive on the other – without much effort – what more can we ask?
The original version is rich in eggs, butter, or sour cream. However, I find that the vegan version presented here is no less delicious: excellent crunchy crust, lemon filling based on coconut milk, and with a perfect degree of consistency, with a mildly sweetened whipped cream on top.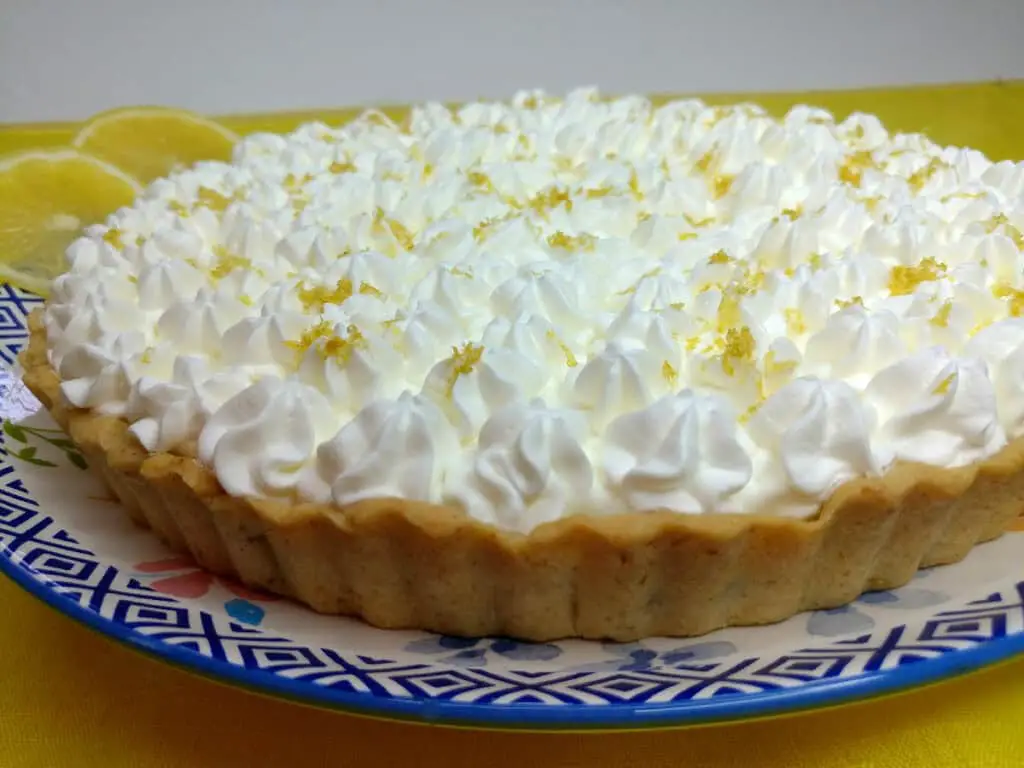 We start by making a shortcrust pastry, line a base and sides of the pan, "blind" baking for 15 minutes, and then "open" baking for another 15 minutes, until golden.
We continue with the lemon filling, consisting of coconut milk, lemon juice, and lemon zest. In addition to cornstarch, we replace the eggs with agar-agar powder.
We then add whipped cream, a slight touch of lemon zest – and place in the refrigerator to set.
Serve cold or at room temperature.
Enjoy and let me know how it turned out ❤️
Lemon Tart, Vegan
Crispy crust, lemon filling, and a plant-based whipped cream create a refreshing way to close the week and endure this hot summer.
EQUIPMENT
baking paper, coarse salt or beans
Ingredients
Topping
250

ml

plant-based whipping cream

mildly sweetened
Instructions
Early Preparations
Preheat oven to 180 degrees Celsius.
Crust
Put all the dough ingredients in a food processor container; it is better to use the plastic blade; Process for a few seconds until it forms into a ball of dough; if lacking water, add a little gradually.

Line the base and sides of the greased pan with the dough. Start with the sides and continue to the bottom. Prick the dough with a fork and place in the refrigerator for about half an hour.

Cover the dough with baking paper – if necessary, cut the excess of the paper out of the pan. Next, fill the pan with coarse salt or beans.

Bake in the center of the oven for 15 minutes.

Remove from the oven, do not turn it off! Remove the salt carefully (first with a spoon, then together with the baking paper. Keep the salt for next time.

Return to the oven and bake for another 15 minutes – until golden. Remove and cool on a wire rack to room temperature.
Lemon Filling
In a small bowl, mix the cornstarch with the yellow food coloring powder, add the three tablespoons of water and mix well.

In a small saucepan, cook over medium heat coconut milk, sugar, lemon juice, lemon zest, agar-agar, salt, vanilla, and mix.

Add the diluted cornstarch and food coloring; Cook over a medium-high heat while stirring, until the mixture comes to a boil and thickens. Cook for another minute. Set aside to cool to room temperature.
Topping
Whip the cold whipped cream until it is very firm; Fill a whipping bag with a wide star tip and pour over the lemon filling in circles – from the outside towards the center. Put in the refrigerator for several hours to set.
For Serving
Sprinkle lemon zest on the whipped cream. Serve cold or at room temperature (on summer days – do not leave outside the fridge for too long – it might melt the whipped cream.
Notes
You should grate 2 lemons in advance – before squeezing them; In order not to get confused, it is recommended to grate each lemon in a separate bowl 🙂
Instead of perfusion, you can spread the whipped cream with the back of a spoon or with a spoon-spatula.
Instead of the whipped cream topping, You can make a vegan meringue:
Whip 8 tablespoons thick and cold chickpea water with a teaspoon of natural and filtered lemon juice – start at a low speed, and after about two minutes, increase speed; Beat for at least 8 minutes – until you begin to see the desired result.
Gradually add eight tablespoons of powdered sugar, waiting about half a minute between tablespoons.
Once all the sugar has been absorbed – increase the speed and beat on high speed for another 3-5 minutes until you reach the desired degree of stability.
Keep the coarse salt for reuse; I store mine mainly for vegan smoked salmon; The salt improves after baking – because it becomes a kind of smoked salt.
You may also like:
Lemon and Poppy Cookies Coated in Vegan White Chocolate