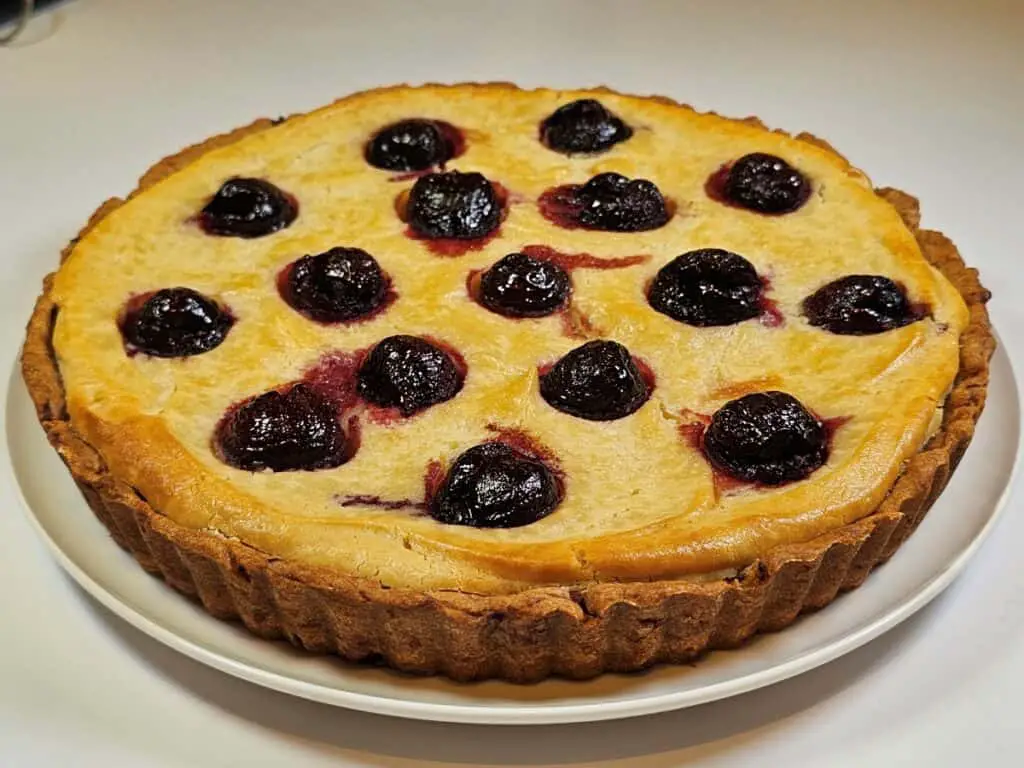 Now that we have a recipe for almond ricotta on the blog, it's time to incorporate it into pasta and pastries.
Let's start with a cherry ricotta tart with an excellent crust and a soft almond ricotta cream studded with whole cherries.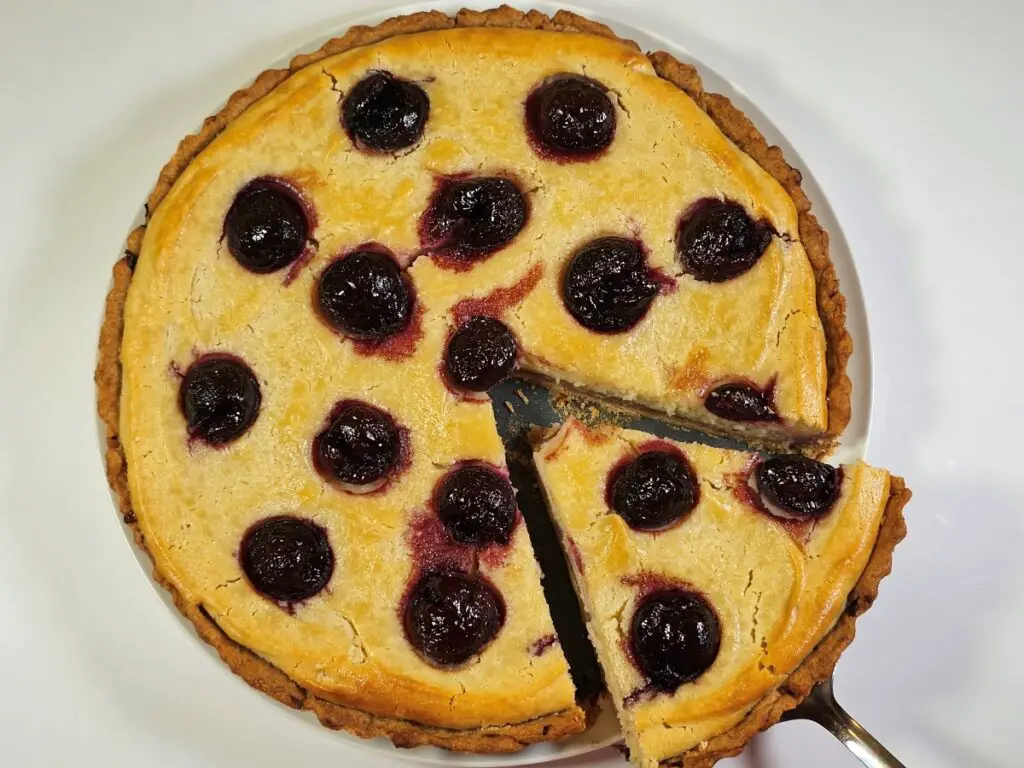 Those following the blog must have noticed the fingerprint I like to leave in recipes, such as Apricot Pistachio tart.
Because a recipe, ladies and gentlemen, is no less than a work of art! Like a painting, where the frame is part of the picture (quite a few artists paint on the frame as well), the tart frame (crust) is an integral part of the creation.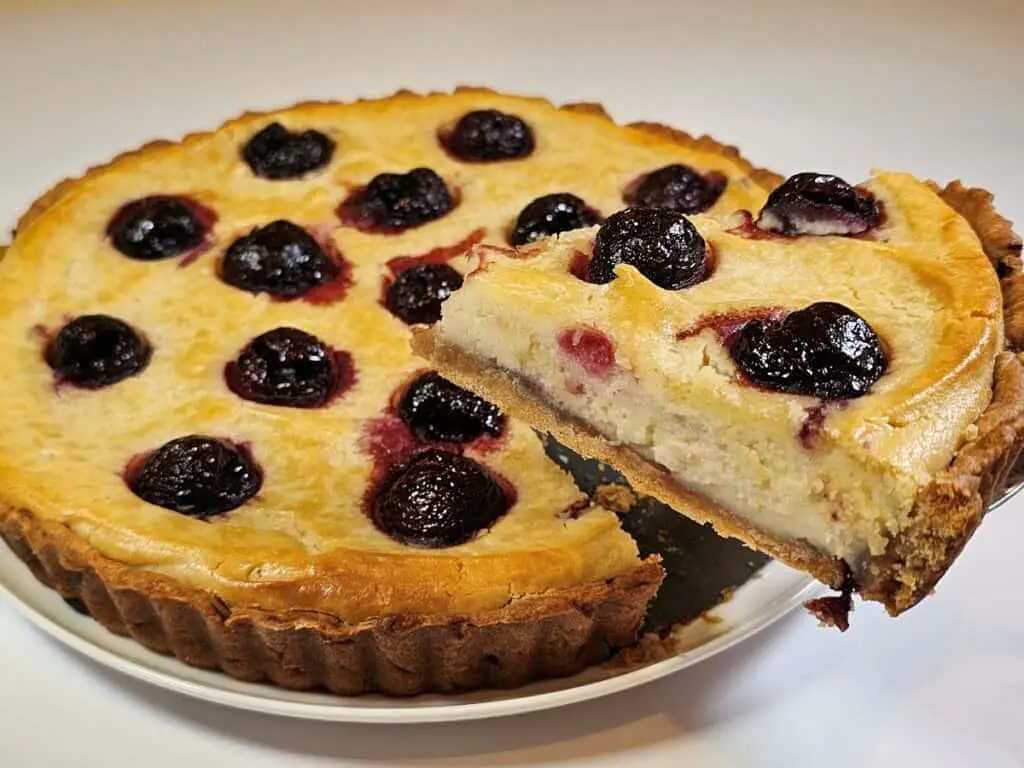 Therefore, it is only natural to "paint" the crust with elements of the filling.
So I roughly chopped fresh cherries, added them to the traditional dough – which has accompanied me for years faithfully with great success – and lined a greased tart pan with it.
Next, I put a double amount of Almond Ricotta in a bowl, added sugar and some other ingredients, mixed well, and poured it on the dough.
For the Grand Finale – cherries!
I pitted juicy cherries and pressed them lightly in the cream.
Next, I placed the tart in the oven and baked it until golden.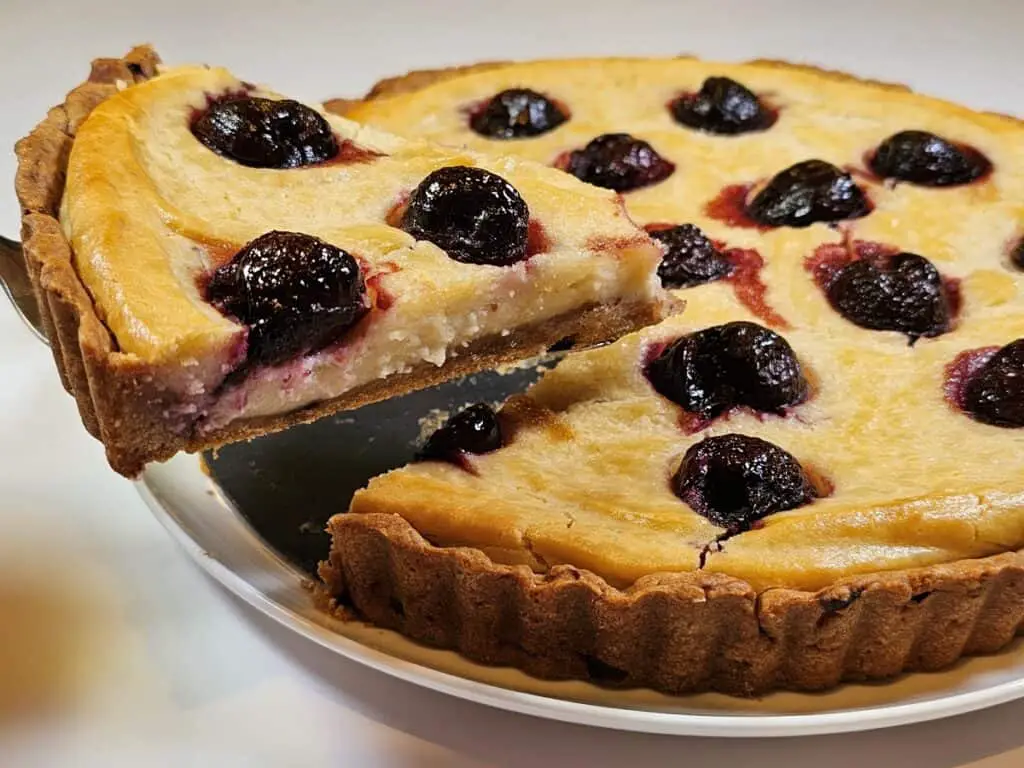 I got a spectacular tart with a perfect taste and texture that does not shame its non-vegan brother! It contains only natural ingredients and no unidentified additives.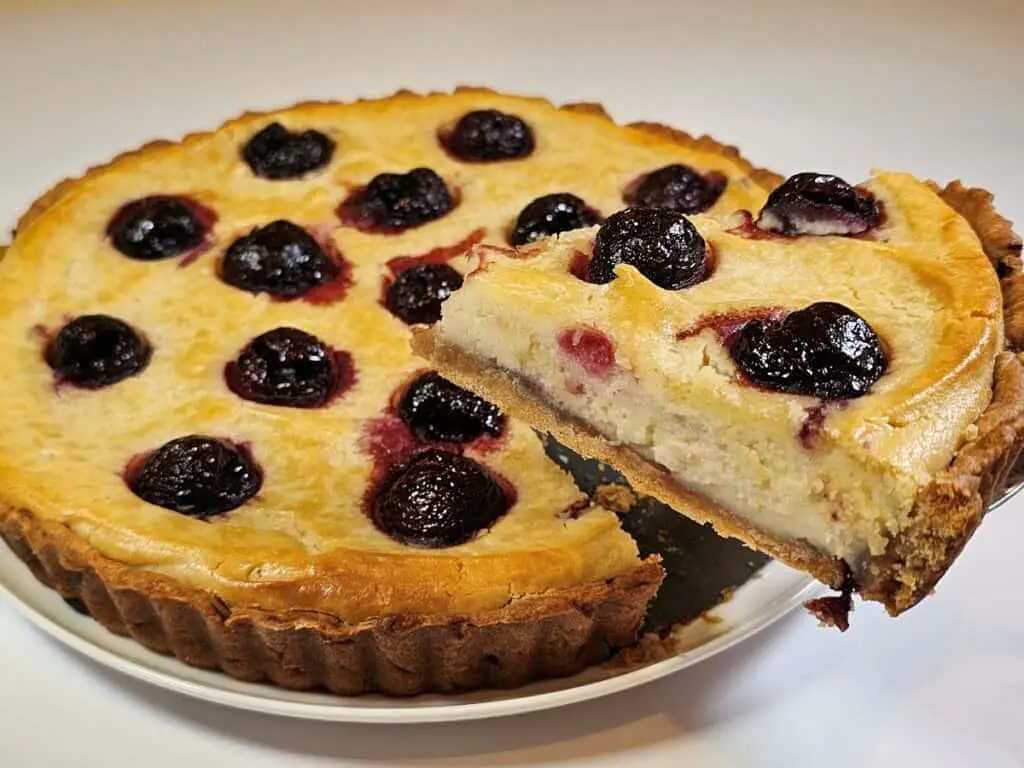 Enjoy, and let me know how it turned out. 🍒😋❣
Almond Ricotta Cherry Tart
A heavenly pleasure worth the effort: line a mold with a crust enriched with cherries, spread homemade almond ricotta cream, add red cherries, and bake until golden. Sprinkle with powdered sugar and serve lukewarm or at room temperature. You get a tart with an upgraded crust, a cheese filling with a soft texture, and a divine taste.🍒😋❣
Instructions
Early preparation: start making the Almond Ricotta two days earlier, and keep it in the fridge
Cherry Crust
Grease a 26 cm (10-inch) tart pan well, flour the bottom, and shake off excess.

Put all the crust ingredients in a food processor and process until it forms a dough. Take out, line the pan (bottom and sides), and place in the refrigerator for half an hour.

Preheat oven to 160 Celsius 320 F. Place the rack in the center of the oven.
Ricotta Cream
Put the ricotta, sugar, salt, cornstarch, almond butter, olive oil, and vanilla extract in a deep bowl and mix well until combined. Transfer to a pan and level with a spatula.

Arrange the pitted cherries on the ricotta cream – press them gently.

For a golden look, spray with olive oil or Pam oil.

Put in the center of the oven and bake for 50-60 minutes until it sets and turns golden; Turn off the oven and leave the cake in it for another half hour. Take out, and let cool on a wire rack.
For Serving
Sprinkle powdered sugar (optional) and serve lukewarm or at room temperature.
Notes
This recipe is suitable for a 10-Inch (26 cm) tart pan. It requires twice the amount indicated in the recipe for almond ricotta cheese. For your convenience, at the top of the recipe for ricotta cheese, next to the heading "ingredients," there is an option to double the quantities.
For best results and to make life easier, grind and strain the ingredients in several batches; after that, you can continue as usual and pour all the milk created from the "grinding and milking" – into one pan/wok.
If you want a smaller cake – half the quantity, use an 8-Inch (20cm) mold. In this case, there is no need to double the amounts of the almond ricotta recipe.