Vietnamese chicken and noodle soup with plenty of spices and herbs – vegan!
I first had this exotic soup about four years ago on Prenzlauer Allee in Berlin. I was amazed by the abundance of Asian spices compared to the pale Jewish chicken soup!
Pho soup is rich in flavors, bold and delicate at the same time; This is not surprising, given that fine Vietnamese cuisine is influenced by French cuisine; After all, only good can come from such a successful match.
So what exactly is Pho soup?
The base is a soup stock rich in vegetables and Asian spices such as star anise and fennel seeds, which is cooked comfortably with whole chicken or pieces of beef.
The traditional recipe calls for a few tablespoons of fish sauce, which is easy to veganize. I will dedicate a separate post to vegan fish sauce, but this recipe is "all-inclusive" – the vegan fish sauce is already inside!
Strain the soup, place a portion of rice noodles in a bowl, top with plant-based protein, pour soup on top, and add green onions and sprouts to taste. Next, add coriander leaves, Thai or regular basil, mint, red chili, sriracha sauce, hoisin sauce, and last but not least: rice crackers mix! This crunchy snack, seasoned with seaweed and wasabi, will take this soup to the next level.
Enjoy, and let me know how it turned out 🌶😋❣️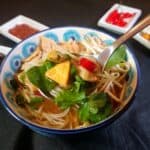 Vegan Phở Ga Soup
Vietnamese soup with noodles, yuba wings or tofu, plenty of spices, vegetables, and herbs that hypnotizes the palate and warm belly and heart: place rice noodles in a soup bowl, add yuba or tofu, pour soup, and celebrate with the toppings: sprouts, green onions, cilantro, mint, basil, chili and a generous handful of spicy rice crackers mix. Serve with sriracha, hoisin sauce, and lemon wedges, and enjoy.
Ingredients
Soup
Oil for brushing

1

Onion peeled and cut into thick slices.

1

carrot, roughly sliced

1

celery stick, roughly chopped

Celery bulb – washed well, peeled, and sliced into thick slices

optional

unpeeled ginger about 5 cm in size – sliced into thick slices

20

cilantro stems, with leaves

5

anise star

1

small cinnamon stick

4

cloves

2

tsp

fennel seeds

2

tsp

coriander seeds

¼

tsp

Whole black peppercorns

2-3

tsp

kelp granules

wakame or any seaweed

1

Tablespoon

dulse seaweed powder

or any seaweed

3

cloves

crushed garlic

3

dried shiitake mushrooms

4

cubes

pineapple, forsen or canned

optional

1-2

Tablespoon

coconut sugar or white sugar

1

Tablespoon

white miso

1

Tablespoon

soy sauce

2

Tablespoon

mild oil

canola, corn

2

liter

water

salt

by taste
Noodles and Plant-Based Protein
50

gram

bean curd (yuba wings)

or one pack of tofu (about 300 grams)

300-350

gram

dried rice boodles
Toppings
2-3

stems

Scallion (green onion), cut into thin slices.

2

cups

bean sprouts

by taste

basil leaves

Thai basil or standard basil, by taste

cilantro leaves

by taste

mint leaves

by taste

red chili, thinly sliced or chopped

by taste

Hoisin sauce

by taste

Sriracha sauce

by taste

1

Lemon or lime cut into wedges

by taste

Japanese Rice Crackers Mix

optional, by taste
Instructions
Soup
Brush the bottom of a soup pot with oil and heat.

Add onion, carrot, ginger, and celery bulb and fry for about two minutes until they are nicely browned (almost black). Turn over with tongs and sear for about two more minutes.

Add all the other ingredients to the pot except the salt: oil, celery stick, seaweed, shiitake, coriander stalks, cinnamon, black pepper, fennel seeds, coriander seeds, cloves, anise, garlic, pineapple cubes, miso, soy sauce, and sugar. Next, add two tablespoons of oil and water.

Bring to a boil, lower the heat, and cover.

Cook at a gentle boil for about an hour and a half.

When the soup is ready, strain, return to the pot, and add salt to taste.
For Serving
Bring the soup to a boil, meanwhile prepare the Yuba wings and noodles:
Noodles and Plant-Based Protein
Soak the yuba wings in boiling water for about five minutes, wash and strain, squeeze well, cut them into three pieces, stir-fry in a bit of oil until it turns golden, and set aside.

If you use tofu – slice or tear it into chunks and brown it in a bit of oil.

Prepare the noodles according to the manufacturer's instructions and strain.

Place noodles in bowls. Put Yuba or tofu on top and pour the soup over it.
Toppings
Add to taste: sprouts, green onion, coriander leaves, mint, basil, red chili, sriracha, and hoisin sauce.

Squeeze lemon or lime to taste and serve immediately with rice crackers mix.
Notes
Since the soup is well kept in the freezer, I recommend doubling the quantities.
I recommend putting the spices and seaweed in a small spice bag. It's not mandatory, but it will make it easier for you to use the cooked vegetables, mushrooms, and pineapple for other uses. (with some olive oil or mayonnaise, salt, and black pepper – for example)