"Plot twist!" exclaimed my colleague in surprise after the first bite when he encountered rosemary and ginger alongside a distinct passionfruit flavor.
So what do we have here: a passion fruit cake with a soft and moist texture, dotted with crunchy seeds that enhance the taste of the fruit, and a spiced nut mixture scattered along the center of the cake.
Hand on heart: it turns out that Passionflower is quite spoiled because it took me a few attempts to reach the destination.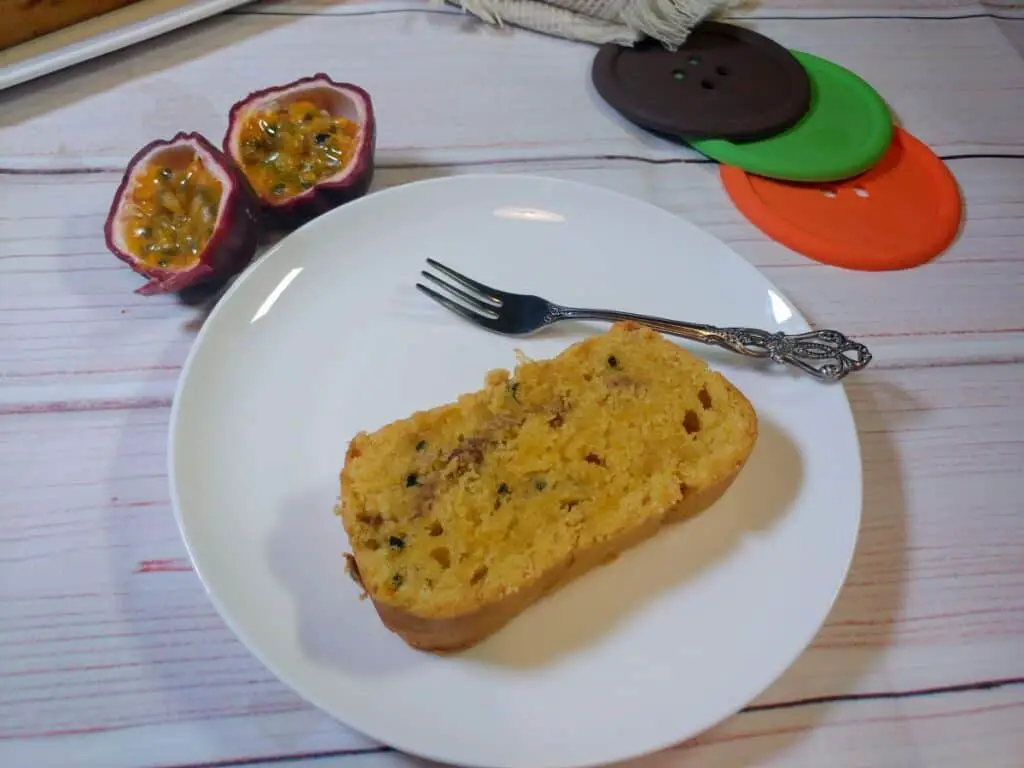 But as in life, determination and persistence pay off, and at the end of the process, I got a fluffy, stable, and insanely delicious cake.
The cake is easy to make, and success is guaranteed if you follow the instructions!
Enjoy, and let me know how it turned out 😋❣️
Vegan Passion Fruit Cake
Do you like passion fruit? Then, this cake is for you!
A Distinct passion fruit flavor, a moist texture dotted with crunchy, flavorful seeds, and a plot twist in the form of rosemary, ginger, and nuts.
Ingredients
Dry Ingredients
2

cups

flour

1½

tsp

baking power

¼

tsp

salt
Filling
¼

cup

walnuts, chopped

or pecans

1

Tablespoon

cane sugar

½

tsp

Dried and crumbled rosemary leaves.

¼

tsp

ground ginger
Instructions
Grease and flour a 22 cm X 10 cm mold – 8.6 inches X 3.9 inches (do this with a silicone pan as well).

Heat the oven to 160 degrees Celsius – 320 degrees Fahrenheit

Mix the filling ingredients in a small bowl: chopped nuts, cane sugar, rosemary, and ginger powder, and set aside.

Sift flour into a bowl, add baking powder and salt and mix with a fork or whisk. Set aside.

In another bowl, mix well oil and sugar; Add vanilla extract and milk and mix well; add the passionfruit and mix well.

Gradually add the flour to the batter and mix until fully combined.

Transfer about a third of the batter to the pan and flatten.

Sprinkle the nut mixture evenly over the batter.

Add the rest of the batter and flatten with a spatula; if necessary, tilt the mold to cover the nut mixture.

Place on the second lower level of the oven and bake for 50-55 minutes, until a toothpick inserted in the center of the cake comes out clean. Take out and place on a rack. Allow the cake to cool completely before removing it from the pan and serving.
Notes
Freeze whole passion fruits as is, with the peel:
The fruit retains its texture when frozen and returns to its original state after defrosting.
Enjoy a frozen passion fruit as a sorbet:
Leave it out of the freezer for a short time, or place it in the microwave for a few seconds (to make it easier to cut the fruit).

Cut it in half.

Use a spoon and enjoy.