Spanish meal in a pan
There are two versions of the origin of the name of the dish; Paella in Valencian language means 'Pan'; Some insist that the reference is actually to Pailla (a large utensil); Either way it's about a cooking utensil in which the dish was prepared or served.
I heard the second version from a Dutch acquaintance who told me while he was enjoying the vegan paella I made that the name is a distortion of 'Para Ella' – 'for her' in Spanish:
Legend has it that the fishermen of Valencia prepared the paella for their wives shortly after returning from a successful fishing trip.
The story ignited my imagination: long tables on the beach, sizzling coals; Clay jugs filled with sherry wine; Graceful girls are dancing and singing, mothers are running after the toddlers, while the fishermen are cooking rice in huge pans, with a variety of seafood that was captured in the net. Everyone is chatting, laughing, shouting, and raising glasses to Poseidon. Great joy.
I prefer the mythological version; I think it's much more appetizing!
It's true that we eat with our eyes first, but the ears also participate in the experience!
Moreover, the taste of each dish improves miraculously when a good story hovers over!
When a story is attached to a dish – it feels like we belong to something bigger, which takes us in the blink of an eye on a journey through time and space.
The story is in a non-vegan style; nevertheless, the emphasis here, in my opinion, is on community life and the way women were treated then (long before the feminist movement).
It is essential to embrace the past; denial of it might jeopardize our future.
The first vegan paella I had was excellent; It was made by Monica, an acquaintance who lives in Bilbao. I remember her frustration when she couldn't find the proper rice in Israel. To our delight – a short trip to Nazareth yielded "La Sigala" – the semi-round Spanish rice!
Before you panic – round rice for risotto will also give good results.
I learned from Monica that paella must always include onion, garlic, red bell pepper, and green peas -this is mandatory; The rest of the vegetables – can be added depending on the season and personal preferences.
I learned that they hardly cook with spices in Spanish cuisine; Garlic, on the other hand, is used quite a lot.
In this recipe, we use garlic, saffron, a pinch of salt, and nothing else!
Occasionally to create a twist, I break the rules of tradition and add a few pieces of lasagna sheets!
You too can break the rule and sprinkle some toasted peanuts for serving.

It's easy to make paella; you can't fail as long as you follow the instructions:
10 minutes of cooking over high heat without cover.
10 minutes cooking over low heat – without cover.
10 minutes – away from heat – covered with a kitchen towel.
When I served it to a non-vegan guest, he told me with a full mouth that he had paella in different variations during his trip to Spain. He declared that this was the best paella he had ever eaten!
Enjoy and let me know how it turned out ❤️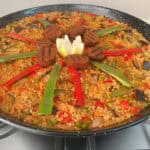 Vegan Paella
It's easy to make paella; you can't fail as long as you follow the instructions. While the traditional version is usually served with seafood; You can garnish it with stir-fry 'chikeun', seared vegan chorizo, or even "seafood" made of king oyster mushrooms; Use your imagination!
Ingredients
4-6 portions
⅓

cup

olive oil

1

large onion, chopped

3-5

cloves

minced garlic

feel free to add some more 🙂

1

red bell pepper, diced

1

cup

green peas

possible frozen

1

medium eggplant diced

200

grams

mushrooms

Champignon, Cremini, Portobello

1

cup

okra

possible frozen, optional

2

cups

Spanish rice

or Risotto rice (do not use sushi rice)

100

grams

tomato paste

4¾

cups

boiling water

pinch

saffron

soaked in a ¼ of hot water

2

tsp

salt

to taste
optional addition
2-3

lasagna sheets, broken to 3-4 pieces

or any other large pasta- such as Cannelloni
For Serving
Carved half a lemon, strips of roasted bell pepper, roasted peanuts, stir-fried "chicken" or vegan chorizo slices seared on a griddle pan
Instructions
Heat olive oil over medium-high heat in a paella pan (or a large sauté pan), add garlic, and fry for a few seconds until it smells delicious, add onion and fry until golden.

Add peas and red bell pepper. Cook for about 5 minutes until semi-soft.

Add the rest of the vegetables. Lower the heat and cook for about 10 minutes until the vegetables are almost ready.

Add rice, mix with the vegetables and cook for 2-3 minutes. Add boiling water, tomato paste, salt, saffron (together with its soaking water), and mix. Taste and add salt if necessary. Add the broken lasagna sheets, press them inside (so they don't dry out).

Cook over medium-high heat, uncovered, for 10 minutes; Lower to low heat and cook for another 10 minutes; Remove from heat, cover the pan with a large kitchen towel and control yourself for another 10 minutes 😉
For Serving
Place a carved lemon in the center of the pan, garnish with strips of roasted bell pepper, stir-fried "chicken" or seared vegan chorizo; For crunchiness, sprinkle some toasted peanuts.
Notes
Don't use basmati or jasmine rice. You will end up with a completely different texture from the traditional dish.

Thanks to Monica for a recipe that gains compliments from everyone who eats it!