Let's start with the fact that I've never tasted crack pie! However, I was challenged to veganize the dish by a colleague at work who is not vegan.
Short research revealed that the magic of the recipe hides in its simplicity: granola cookie crust and creamy filling; lots of butter, egg yolks, and heavy cream baked until you get that unique taste that lights up your eyes and palate.
I realized that there is no point in trying to veganize it 100% since nothing can, in my opinion, at least for now, accurately recreate the unique taste obtained from baked butter and heavy cream.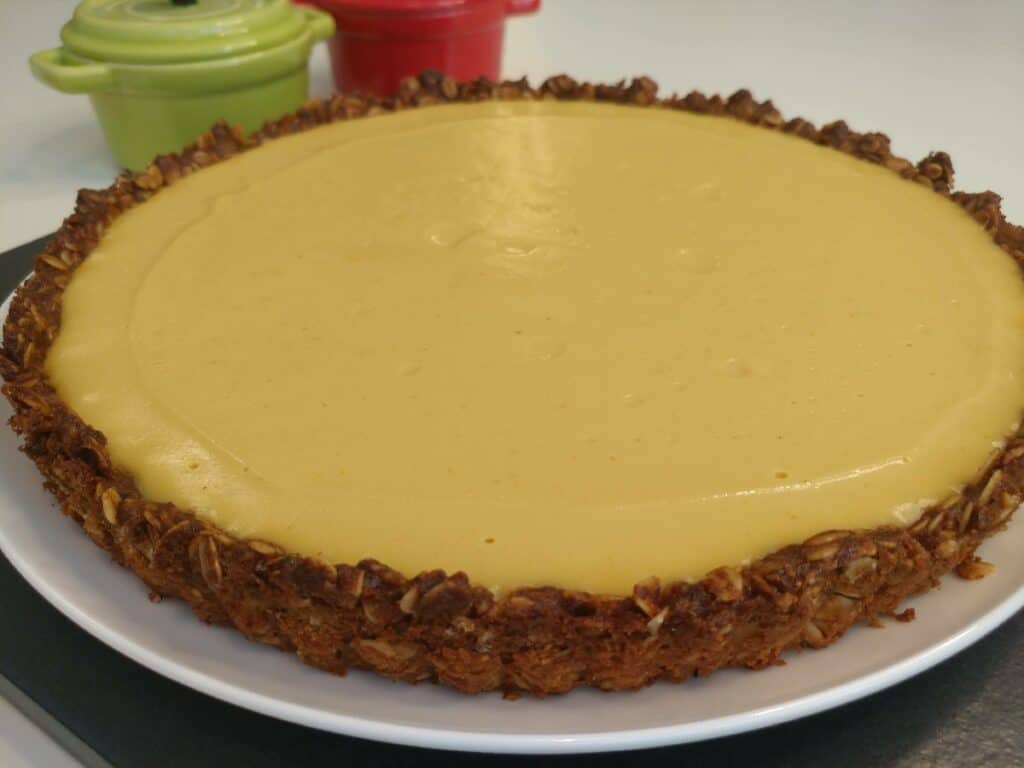 So I started working on my version, which would be in the spirit of the original crack pie recipe but would evolve as a freestyle.
Instead of baking the granola dough twice, as in the original recipe, I toasted rolled oat in a pan, then caramelized vegan butter and sugar, mixed everything together, lined a pie pan, and baked until golden and set.
To make the cream, I recruited my recipe for Vegan Creme Brulee with a few adjustments: Since I wanted a softer cream, I reduced the amount of agar-agar and caramelized the butter and sugar of the cream in the pan as well.
In a flash of inspiration, I added a few drops of toffee-flavored extract – and a new dish was born: Crack Toffee Pie!
I poured the cream over the crust, and just before serving, I sprinkled sugar on the cream and caramelized it with a torch in front of the diners' eyes, which upgraded the meal and made it especially festive.
When Gad tasted the cake for the first time – his eyes lit up: "Just like WERTHER'S ORIGINAL – he handed the plate for a refill.
This vegan crack toffee pie is dangerously delicious, easy to make, and impressive. In short: PERFECT!
Enjoy, and let me know how it turned out ❣️
Vegan Crack Toffee Pie
Inspired by the classic crack pie recipe: toast rolled oat in a pan, caramelize sugar and vegan butter, mix everything, bake until golden. Vegan Creme Brulee replaces, with some adjustments, the traditional heavy cream and butter.
This Vegan Crack Toffee Pie is dangerously delicious, easy to make, and impressive. Bottom line: perfect!
Ingredients
For Serving
2-3

Tablespoon

white sugar

strawberry, kiwi, sliced
Instructions
Crust
Preheat the oven to 180 degrees Celsius (356 F).

In a large skillet, toast the oat until it begins to turn golden. Transfer to a bowl. Add butter and sugar to the pan and caramelize while stirring until the sugar melts and is lightly golden. Transfer to the bowl with the oats. Add the rest of the ingredients (amaranth flour, almond butter, salt, water, and toffee flavor drops; knead until you get a sticky mixture.

Transfer to a 10-inch diameter (26 cm) tart pan, well greased. Wet your hands, flatten the mixture, and fasten it to the base and sides. Keep your hands moist, so the crust does not stick to your hands. Bake for 15-20 minutes until it sets and turns golden. Remove and cool.
Creme Brulee Filling
Melt butter and sugar in a medium saucepan while stirring until the sugar melts and turns slightly golden. Add while mixing tapioca, agar-agar, xanthan gum, nutritional yeast, דsalt, turmeric, and paprika; Add the coconut milk and cook while stirring over medium heat until boiling. Remove from the heat and add the Toffee Flavor drops. Stir and let cool for about ten minutes.

Pour the warm mixture over the crust and cool. After about an hour, the mixture is slightly stabilized and ready to serve. After overnight in the refrigerator, it will stabilize more but retain a creamy texture.
For Serving
Sprinkle white sugar over the whole cake or on each slice individually. Caramelize with a burner.

Serve with sliced fruit such as strawberry and kiwi.