With Sour Cream Topping
This recipe is based on a baked cheesecake topped with a glossy icing of sour cream that I used to make often in my pre-vegan period.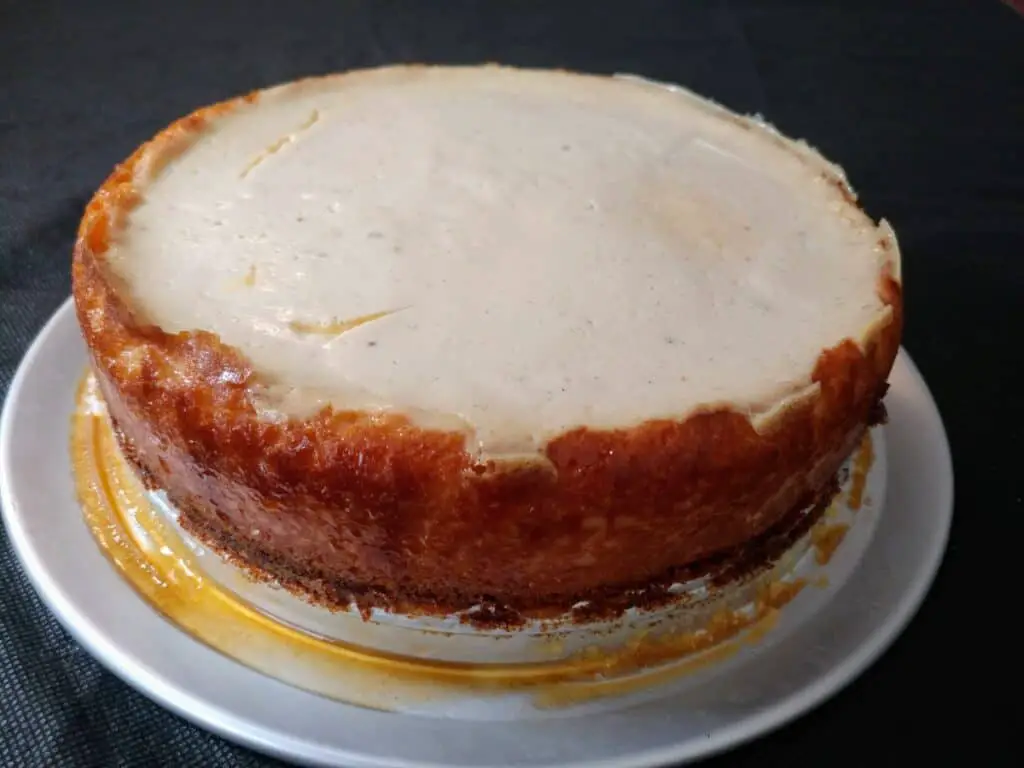 Naturally, veganizing the crust was easy.
The original filling is without a trace of flour and includes low-fat cream cheese, egg yolks, and egg white meringue. However, experience has taught me that sometimes deviating from the instructions can bring me closer to the goal.
Ask me what I did?
Ohh! Thank you for asking 🙂
I mixed vegan cream cheese, added almond butter to the mixture, and after baking, I poured vegan sour cream on top.
The outcome was beyond expectation! A creamy delicious filling with a glossy topping!
Enjoy and let me know how it turned out❣️
Vegan Baked Cheese Cake With Vegan Sour Cream Topping
The ultimate vegan baked cheesecake: crispy crust, vegan cream cheese filling topped with glossy vegan sour cream. Easy and delicious! Even non-vegans will lick their fingers and ask for a second 😋
Ingredients
Vegan Cream Cheese Filling
Instructions
Crust
Preheat oven to 180 degrees Celsius (356 Fahrenheit)

Put flour, baking powder, butter, vanilla sugar, salt, and one tablespoon of water in a bowl or food processor. Stir until a dough forms. If necessary, add another tablespoon of water.

Spread the dough on the greased pan, base only (no sides). Prick the dough with a fork and bake until golden, about 10 minutes. Remove from the oven and allow to cool on a wire rack.
Vegan Cream Cheese Filling
Put all the filling ingredients in a bowl or a mixer, and stir well until you get a smooth mixture.

Pour the filling into a pan over the crust and flatten with a spoon or spatula.

Bake for about 50 minutes until golden. Remove from the oven and cool on a wire rack. Turn off the oven.
Vegan Sour Cream Topping
Mix the sour cream, sugar, and vanilla in a bowl and pour over the cheese filling evenly. Slightly tilt the mold from side to side or use a spatula.

Return the cake to the turned-off oven for about an hour.

Remove and cool the cake on a wire rack. Cover it with aluminum foil and place it in the refrigerator.

You can serve the cheese cake with blueberry or strawberry sauce
Notes
In the vegan sour cream recipe, add 1 cup of blanched almonds (instead of half a cup)
To get a glossy sour cream coating – strain the sour cream through a nut-milk bag, according to the instructions in the recipe.
After straining, you will get about 1.5 cups of sour cream, as required in the cheesecake recipe.
Add the flour if you want a slightly more stable and firm texture. We think the cake is excellent without the flour.