Baba Ganoush In Disguise
Many years ago, I first came across a recipe for roasted eggplant soup with the addition of basil. The recipe surprised me, even though eggplant, like avocado, is a neutral vegetable that works well with almost any recipe.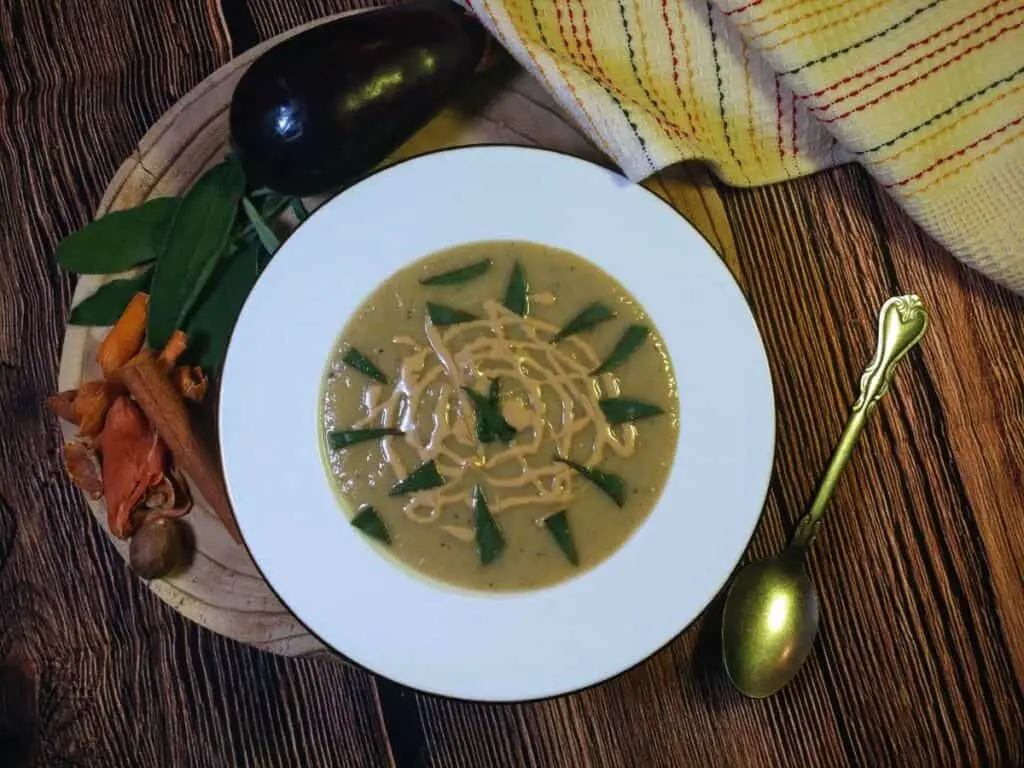 Those were the days when almost everything seemed to have a defined role (at least in the culinary world). And so we had grilled Eggplants mixed with tahini or mayonnaise, a variety of fried eggplants, or vegetable stew with eggplants. Ç'est tout!
The blog was a trigger for me to break the schedule. But if you're already preparing, let it be with a twist!
So I decided on a soup disguise for the famous baba ganoush: I roasted eggplants on the open fire, sauteed onions, leeks, and garlic with some sage, added the eggplant and diced potatoes and mixed well.
I replaced the traditional seasoning of thyme or basil with a pinch of bolder spices like mace, nutmeg, and cinnamon. Next, I added water, brought it to a boil, and cooked it for about half an hour.
I poured it into bowls, drizzled tahini, sprinkled fresh chopped sage, and served it with croutons. Finally, I took a tablespoon – and my eyes lit up. The dominance of the smoked eggplants and the implied taste of the spices created a delicacy that was hard to resist.
Enjoy, and let me know how it turned out🍆😋❣️
Roasted Eggplant Soup
Baba Ganoush in disguise: Saute roasted eggplants with onions, leeks, potatoes, fresh sage, and a pinch of Mace, Nutmeg, and Cinnamon. Serve with a drizzle of tahini, chopped sage leaves, croutons, or bread🍆😋❣️
Ingredients
1

Kg

Eggplants

about two medium units

2

small potatoes, peeled and cut into 1.5 cm (0.6-Inches) cubes

¼

cup

olive oil

1

onion, chopped

1

leek, white part only, chopped

3

cloves

garlic, minced

3

sage leaves

1

Liter

water

⅛

tsp

ground cinnamon

⅛

tsp

ground nutmeg

⅛

tsp

ground mace

salt, and ground black pepper

by taste

½

cup

unsweetened almond milk

or water
For Serving
Tahini, chopped sage leaves, croutons or bread
Instructions
Start with the eggplants: roast them on an open fire (gas stove) on all sides until they soften. Remove from heat, transfer to a strainer to drain liquids, and let cool for about ten minutes. (To prepare the eggplant in the microwave, see instructions at the bottom of the recipe).

Using a spoon, remove the eggplant flesh from the peel, and place it in a bowl. If some of the peel got mixed with it – it's okay.

Heat olive oil in a soup pot, add chopped onion and leek, and sauté for a few minutes until the onion is soft and translucent.

Add minced garlic and sage and fry for 30 seconds.

Add eggplants and potato cubes and mix well.

Add water, salt, black pepper, cinnamon, nutmeg, and mace, and mix well.

Bring to a boil, lower the heat, and cook for 30 minutes.

Add half a cup of almond milk or water, and mix; Grind the soup with a stick blender. Taste and adjust seasoning if necessary. If the soup is too thick, add more water or milk.
For Serving
Pour the soup into bowls, drizzle tahini, sprinkle chopped sage, and serve with croutons or bread.
Notes
If you don't have a gas stove or don't feel like messing with the cleanup – you can cook the eggplant in the microwave and add liquid smoke as in our Baba Ganoush Recipe. In this technique, you will get a delicious soup – but keep in mind that roasting on an open fire will give the eggplant a deeper smoky flavor.