A crazy combination that explodes in your mouth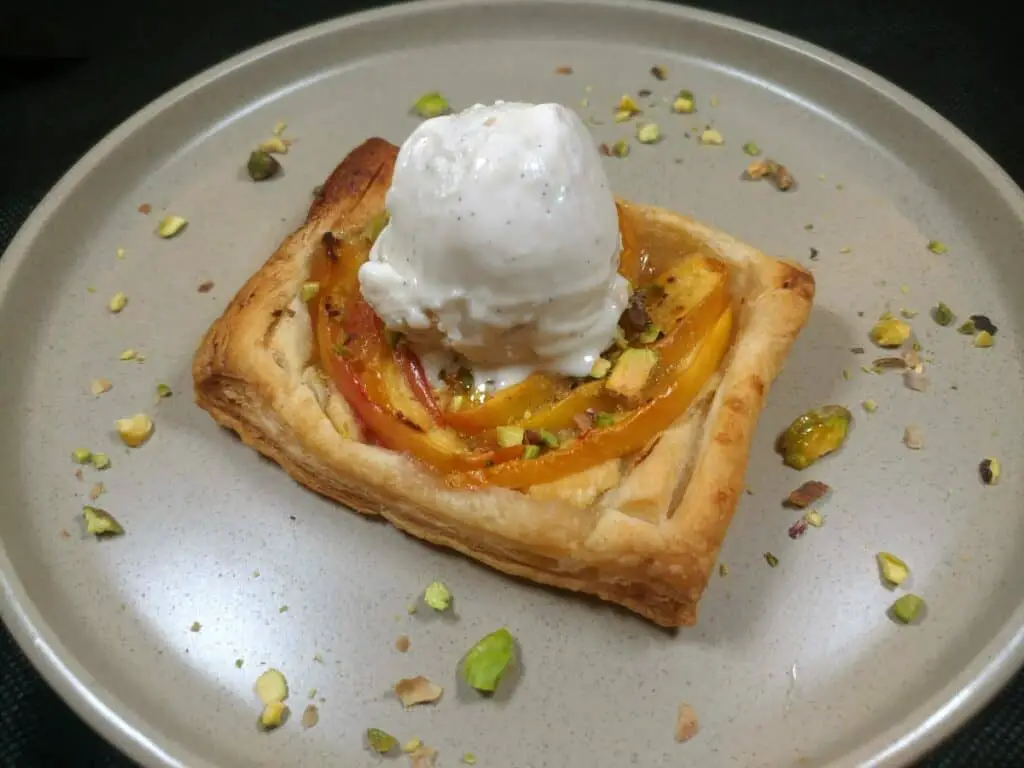 You don't always have to work hard to create an amazing recipe; Sometimes, it only takes a moment of inspiration.
After discovering the puff pastry squares, and a log of vegan goat cheese, I got nectarine for a reasonable price, and a new recipe was born!
The recipe whispered in my ear to add olive oil and salt. I lifted the glove and added chili flakes, cardamom, and ginger. The noble pistachios did not want to be left behind and joined the project.
Twenty minutes in the oven, a scoop of vegan vanilla ice cream – one bite and you are enchanted😋❣️
Puff Pastry With Nectarine & Vegan Goat Cheese
A crazy combination of flavors: Sprinkle vegan "goat" cheese on puff pastry, place thin slices of nectarine, sprinkle sugar spices and pistachios, brush with olive oil and bake. Serve with vegan Vanilla Ice Cream; take a bite, open big eyes and devour immediately.
Ingredients
4

squares

puff pastry, half defrost

size of 9cm by 10cm (3.5-Inch by 3.9-Inch)

4

slices

vegan goat cheese style

Such as this

1

Nectarine, slightly ripe

1

tsp

lemon juice

1

Tablespoon

sugar

pinch

salt

pinch

Chili flakes

pinch

ground cardamom

pinch

ground ginger

1-2

Tablespoon

Pistachios, toasted, salted and chopped

1

Tablespoon

olive oil for brushing
For Serving
Instructions
Preheat the oven to 200 degrees Celsius (392 F)

Using a knife, make shallow cuts in each puff pastry square at less than a cm (0.4-inch) from the edges – see image.

Crumble the goat cheese (a slice per square) and spread evenly on each puff pastry square, making sure not to leave the frame we created earlier with the knife.

Cut the nectarine with a knife, remove the pit, slice it into thin slices, and immediately brush the slices with lemon juice to prevent blackening. Brush with olive oil.

Arrange six slices on each square, three on each side, so they slightly overlap each other.

Mix sugar, chili, salt, ginger, and ground cardamom in a small bowl and sprinkle over the nectarines; sprinkle chopped pistachios on top.

Brush or spray everything with olive oil. Spray the edges with olive oil as well.

Place on a baking tray lined with baking paper in the center of the oven and bake for about 20 minutes until the puff pastry rises and the nectarines are golden.

Serve warm with a scoop of vanilla ice cream on top; take a bite and open big eyes :)😋❣️