Are you stuck with soft tomatoes in the fridge? Do you plan to make tomato sauce before they go bad? Or maybe Shakshuka?
Hand on heart – how many times have you discovered that you forgot about all your savings plans and had to throw the poor tomatoes in the trash?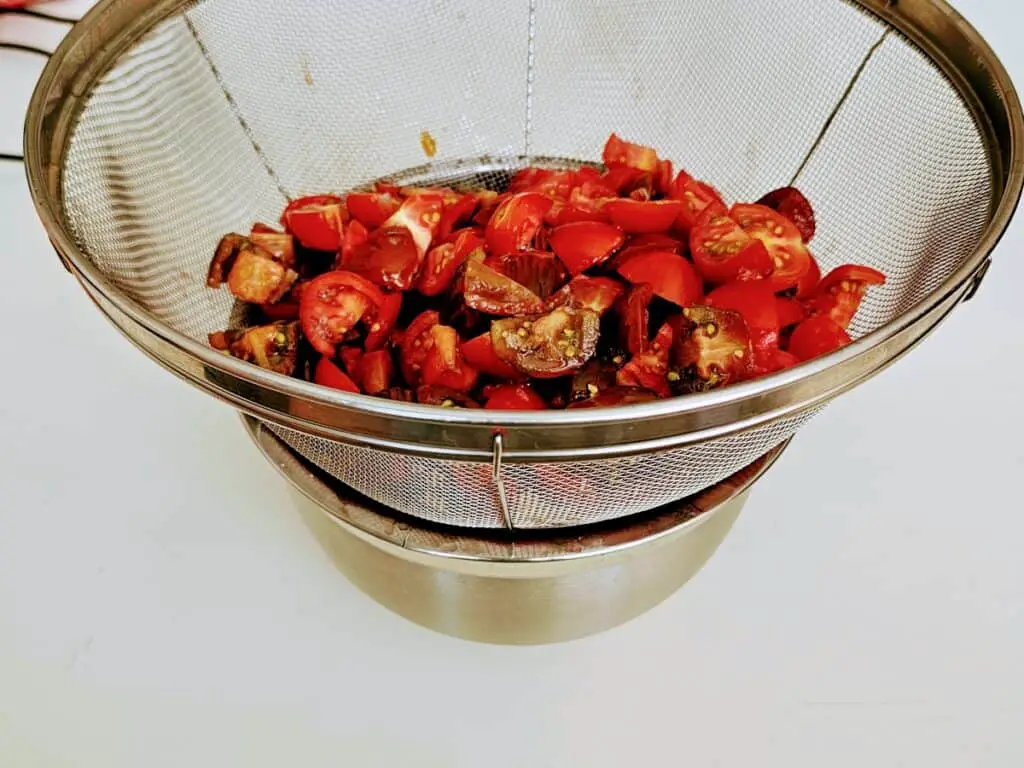 Fret no more! Here is an easy recipe with available ingredients – perfect for the hot summer that takes advantage of ripe tomatoes!
It's satisfying, super tasty, and easy to make.
This salad is perfect for those who like to dunk bread in a delicious vinaigrette dressing.
There are countless versions of Panzanella; some are basic, while some contain roasted vegetables, cucumbers, and peppers, according to taste and imagination.
We will use a pretzel bun or ciabatta, fresh or 1-2 days old.
Mix diced ripe tomatoes with coarse salt, place on a colander standing over a bowl, and allow to drain.
In the meantime, mix bread cubes with olive oil and garlic powder, and toast in the oven or Ninja grill.
מכינים ויניגרט ממיץ העגבניות שבקערה: מוסיפים שמן זית, שום ותבלינים ומערבבים היטב.
מערבבים קוביות עגבניות, בצל אדום פרוס, בזיליקום, רוקט, צלפים וזיתים שחורים בקערה גדולה. מוסיפים לחם קלוי, פרוסות מוצרלה ואת הרוטב ומערבבים היטב.
מכסים ומניחים למנוחה של חצי שעה בטמפרטורת החדר לספיגת טעמים, ומגישים.
תענוג קיץ אולטימטיבי😋❣
Enjoy, and let me know how it turned out 😋❣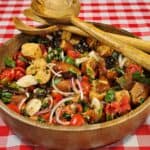 Panzanella Salad
A light summer meal in a bowl: Tuscan salad that works magic with soft tomatoes and stale bread: cut ripe tomatoes into cubes, toast a pretzel bun, or ciabatta. Add red onions, black olives, capers, vegan mozzarella slices, basil, and rocket.
Mix well with a dressing based on the tomato juice. Let rest for half an hour to absorb flavors and devour 😋❣
Ingredients
½

kg

ripe tomatoes, diced

You can use a mix of colors

1

tsp

Coarse salt

½

red onion, finely sliced

¼

cup

 packed basil leaves, or rocket, roughly chopped

or a mix of both

30-50

gram

vegan mozzarella balls, Thinly sliced

by taste

1

Tablespoon

capers, chopped
Toasted Bread
170

gram

Pretzel bun or ciabatta cut into 2-4 cm (1-2 inches) cubes

fresh or stale bread

1

Tablespoon

olive oil

⅛

tsp

garlic powder
Dressing
tomato juice accumulated in the ball

4-5

Tablespoon

olive oil

1

large clove of garlic, minced

½

Tablespoon

apple cider vinegar

½

tsp

Dijon mustard

black pepper, coarse salt

by taste
Instructions
Tomatoes
Put chopped tomatoes in a strainer placed over a bowl, and add a teaspoon of coarse salt; Mix well with your hands.

Set aside at room temperature to drain for at least 15 minutes. Meanwhile, make the toasted bread cubes.

After 15 minutes, lightly squeeze the tomatoes to extract more juice. Remove the tomatoes from the colander and place them in a deep salad bowl. (do not discard the juice left in the bowl – we will use it to make the dressing)
Toasted Bread
Heat oven to 180 degrees Celsius – 350 degrees Fahrenheit. Put the bread cubes in a bowl, add olive oil and garlic powder, and mix well. Transfer the bread to a flat baking tray. Bake in the center of the oven for a few minutes, until the pieces of bread are firm but not browned, remove from the oven and cool. If using a Ninja Grill, toast the bread for only 2-3 minutes.
Dressing
Add olive oil, apple cider vinegar, minced garlic, mustard, salt, and black pepper to the bowl with the tomato juice and mix well.
Assembling The Salad
Add toasted bread, red onion, capers, black olives, mozzarella slices, basil, and rocket to the bowl with the tomatoes. Add the dressing and mix well. Cover the bowl and let the salad rest for 30 minutes before serving to absorb the flavors, stirring occasionally.