I had ravioli with pistachio and blue cheese sauce a few years ago in an Italian restaurant. It was delicious; I couldn't understand why this dish was seasonal and not part of the restaurant's regular menu.
I searched for the recipe online, planning to veganize it, but nothing I found resembled that excellent dish. So I changed the concept and improvised. With all my love and respect for ravioli, I admit that the preparation is tedious! Luckily we have these giant pasta shells on the market, which make a good substitute.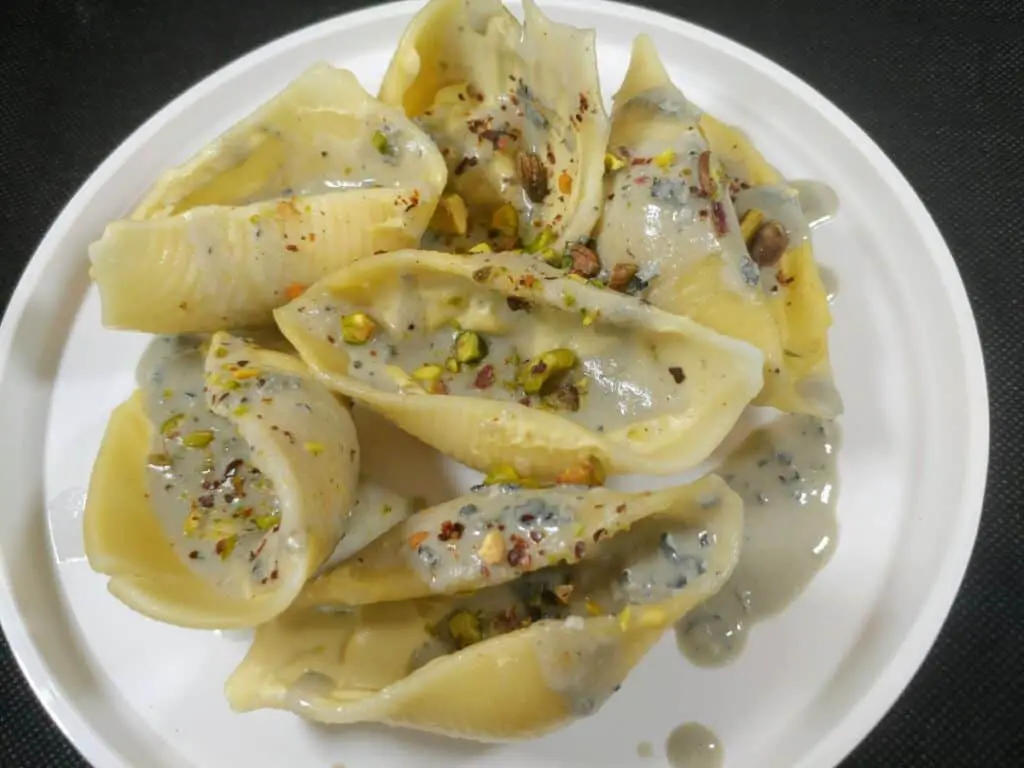 I filled the cooked pasta shells with a mixture of soy cream cheese and pistachio puree and placed them in the oven on low heat, to keep them warm. Meanwhile, I made a sauce based on a recipe I found online with homemade vegan blue cheese.
I poured the sauce over the warm shells, sprinkled chopped pistachios and chili flakes, and served.
Silence prevailed around the table! Everyone was focused on the dish😋
Enjoy every bite and let me know how it turned out😋❣️
Conchiglioni Pasta Pistachio and Vegan Blue Cheese Sauce
An Italian celebration of flavors. Fill pasta shells with pistachio puree and soy cream cheese. Make a vegan blue cheese sauce and pour over the Conchiglioni; Sprinkle chopped roasted pistachios and chili flakes and serve. Don't panic about the silence – the diners are concentrating on every bite😋❣️
Ingredients
20-22

Conchiglioni (pasta shells)
For Serving
chopped toasted pistachio, chili flakes
Instructions
Cook the pasta shells according to the instructions on the package. Strain, save two cups of the pasta cooking water, rinse, add a teaspoon of olive oil to prevent sticking, mix and set aside.

Preheat the oven to low heat of 100 degrees Celsius (212 F).
Pistachio Filling
Mix vegan cream cheese, pistachio butter, nutritional yeast and salt. Taste and adjust seasoning if necessary.

Fill a standard teaspoon with the filling and spread it on the inside of the shells.

Arrange the shells in individual heatproof bowls or a heatproof pan, and place them in the oven uncovered.
Vegan Blue Cheese Sauce
Melt butter and olive oil over low heat in a wok or large skillet.

Add the grated cheese and stir on low heat until the cheese melts; gradually add the pasta water you saved earlier, and continue to cook while stirring. Avoid overcooking; cook only until the sauce reaches the desired consistency. Remove immediately from the heat. Add black pepper and salt to taste.
For Serving
Take the pasta shells out of the oven, pour over the blue cheese sauce, and sprinkle chopped roasted pistachios and chili flakes.